Live Cryptocurrency Market by: Coin360.com
한 줄로 읽는 암호화폐 뉴스(Daily Crypto News, 08/16) [coinpress.co.kr]
[굿모닝 비트코인] 비트코인 장중 한 때 9000달러 대로 하락..1만 800선 돌파가 관건 [blockmedia.co.kr]
비트코인 100일 이동평균 시험 … 붕괴시 8500달러까지 추가 후퇴 가능성 [blockmedia.co.k]
비트코인이 15일(현지시간) 100일 이동평균(MA)을 시험한 가운데 강세론자들이 이 레벨 사수에 실패할 경우 8500달러 부근까지 후퇴할 가능성이 있다는 분석이 나왔다.
100일 MA는 기술적으로 중요한 장기 지지선 가운데 하나다. 따라서 100일 MA 방어 여부가 향후 시장의 방향을 결정할 변수로 지목된다.

코인데스크에 따르면 비트코인은 이날 06시 15분(UTC 기준) 9653달러에 자리잡고 있는 100일 MA 아래로 일시 하락, 매도 주문을 촉발시켰다. 비트코인은 이후 낙폭을 줄이며 1만달러 주변에 머물고 있다.
---
Bitcoin Drops $2,000 in Days Who Done It? [trustnodes.com]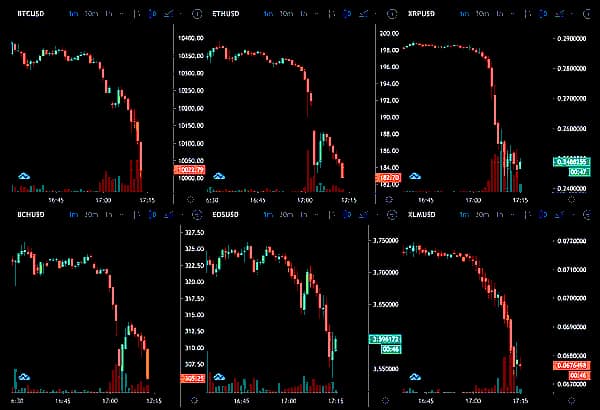 The sell-off for a time appeared to be following Dow Jones pretty closely. That fell by some 3% yesterday as investors try and price-in the chances of a recession following an economic slowdown in UK and Germany.
Trump blamed the FED, but investors are probably more concerned about his "America against the world " policy with el presidente also blaming Germany.
---
Samsung Adds Bitcoin Support to Smartphone Wallet Application [bitcoinmagazine.com]
The largest corporation in the country, Samsung has been making piecemeal moves in the blockchain and crypto industries over the past year. In February 2019, the company announced that its newest phone, the Samsung Galaxy S10, would include baked-in cryptocurrency wallet support for users to store their private keys. With its only real competitors in the crypto-enabled smartphone business being much smaller companies, this drew a fair deal of fanfare from the crypto community.
---
Bitcoin Completes 2-Day $2,000 Plunge: Will The Last Support Hold Before Reaching New 2019 Lows? BTC Price Analysis [cryptopotato.com]
After recording the current daily bottom at $9467 on Bitstamp, we saw Bitcoin's impressive comeback over the past two hours. As of writing this, the 4-hour candle of the deep just closed in a nice green bullish Doji shape candle, and if it holds up the significant support trend-line (marked yellow), this changes things for the short term, in my opinion.
---
Crypto Lenders Have Earned Just 2% on $4.7 Billion in Loans: Report [coindesk.com]
A lot of loans have been made in crypto, but lenders have not reaped a lot of profit.

That's the big takeaway from a new report by Graychain, a startup looking to bring credit assessment to the crypto space.

The startup released its first report on the collateralized crypto lending industry Thursday, estimating that $4.7 billion has been lent out over the history of the sector, but only $86 million has been earned back in interest. That's a 1.8 percent return, despite the fact that loans typically cost borrowers 6 to 10 percent on an annual basis.
---
Best Free and Open-Source Crypto Trading Bots, Rated and Reviewed [bitcoinmarketjournal.com]
To compile our list of the best free, open-source trading bots, we have used criteria such as launch year, the number of supported exchanges, and the size of their communities, among other factors.
---
Chinese Ponzi Scheme Worth BIllions Could Be Causing Bitcoin Selloff [cryptoglobe.com]
The 70,000 BTC PlusToken ponzi scheme, worth $3 billion, appears to be impacting bitcoin prices.
Traders are reporting regular 100 BTC sells on Binance and other exchanges dating back to July.
---
Altcoins Bloodbath: ETH, LTC, TRX, ADA & EOS Down Over 12%, XRP Shorts Rise by 200% [bitcoinexchangeguide.com]
Among the top altcoins, Tron (TRX) is the biggest loser with 14.40% losses followed by Bitcoin Cash (BCH) which is down by 12.29%. Ethereum (ETH), XRP, Litecoin (LTC), EOS, and Cardano (ADA) all are in the red by more than 11%. This severe drop in the value of cryptocurrencies has many altcoins turning negative in YTD returns.

XRP and Stellar Lumens (XLM) have already been down in value than where it started the year. XLM leads with 38.97% negative returns YTD followed by IOTA's (MIOTA) 34.66% and XRP which is down by 25.77% since it entered the year.

With 6.91% negative YTD returns, TRX is the latest addition to this group along with NEM (17.69%), Zcash (12.04), and OmiseGo (14.85%).
---
DOW SWINGS WILDLY AS WALL STREET RECOILS FROM 800-POINT BLOODBATH [ccn.com]

Wall Street's major indices recovered from steep losses in the futures market to post bullish advances. The Dow Jones Industrial Average took the first step in recovering from Wednesday's devastating 800-point plunge, rising 111.13 points or 0.44% to 25,590.55.
Adding to the bearish outlook, the South China Morning Post reports that Chinese companies aren't counting on a swift end to the trade war, with firms reliant on US exports hunkering down for "the instability and tension to continue for at least a decade."
---
BITCOIN WEALTH CENTRALIZATION IS A MYTH, SAYS VANECK STRATEGIST [bitcoinist.com]
In a tweet August 15, Gabor Gurbacs, digital asset strategist and director at investment management giant VanEck, took claims the Bitcoin supply was centralized to task.

Comments had previously appeared from sources such as Civic CEO Vinny Lingham, who raised concern at the idea that 80% of available bitcoins resided in just 2% of wallets.
---
Bitcoin Recovers Above $10,000 After Apparent Crash; Time to Buy? [hacked.com]
Bitcoin's price was in recovery mode Thursday morning after an overnight crash wiped more than 7% off its value, ending a three-week stretch of declining volatility. As Hacked reported Wednesday, technical trading has largely dictated bitcoin's behavior after the price was rejected at a critical resistance level.
---
Bitcoin Payments and Blockchain Tech Enters Banking Sector of Latin America [coinidol.com]
The recent partnership of giant banking service provider Bantotal and the Bitex cryptocurrency exchange promises the people of Latin America full access to Bitcoin payments. The Chief Marketing Officer of the exchange Manuel Beaudroit, revealed that the integration of the two financial institutions shows a big step forward in the revolution of blockchain in the banking sector.

Although the blockchain, Bitcoin and cryptocurrency business is still embryonic, it has managed to attract a massive number of institutional investors including individuals, companies and other organizations, hence bringing in institutional funds into the market.
---
유명 애널리스트 "비트코인, CME 선물 갭까지 30% 추가 하락 전망" [coinreaders.com]
특히 인기 애널리스트인 '더크립토미스트(The Cryptomist)'는 이날 트윗을 통해 "비트코인은 현재 CME(시카고상품거래소) 선물 챠트에서 두 가지 갭(Gap)을 보이고 있는데 하나는 기존 11,800달러, 또 하나는 8,400달러다"며 "역사적으로 비트코인이 이러한 갭을 메우지 않는 경우는 거의 드물며, 이는 이 두 가지 가격 수준이 가까운 장래에 비트코인에 의해 터치할 가능성이 높다는 것을 의미한다"고 지적했다. 즉 비트코인이 현재 8,000달러(약 30% 하락)의 낮은 지역에 존재하는 CME 선물 갭을 해소할 때까지 하락세가 계속될 수 있다는 설명이다.
---
"디브리핑의 문호준입니다." 거래소코인과 IEO코인이 상승할 수밖에 없는 구조 [dstreet.io]
---
[Event]
부산에서 FATF와 리브라 이후 암호화폐 세상의 새 질서를 논의한다 [coindeskkorea]

코인데스크코리아와 부산광역시는 오는 9월3일 해운대 파크 하얏트 호텔에서 디지털 자산 거래소 박람회 'DAXPO 2019'를 연다. 각 분야 전문가들을 초청해 다양한 관점에서 디지털 자산 생태계가 맞이한 새로운 국면을 진단할 예정이다.
---
국내 첫 미디어 연합 블록체인 컨퍼런스 'KBW 2019' 열린다 [blockpost]

블록체인 기술과 산업에 전문성을 인정받는 미디어 5사가 공동으로 아시아 최대 규모 블록체인 컨퍼런스 '코리아블록체인위크 2019(KBW 2019)'를 오는 9월 27일부터 10월 4일까지 개최한다.
---
국내 최대 블록체인 행사 '디파인' 열린다…디센터 등 5개 미디어 주관 [decenter]

9월30일부터 10월1일 양일간 그랜드 인터컨티넨탈 서울 퍄르나스에서 팩트블록의 '코리아블록체인위크(KBW) 2019' 주간(9월27일~10월4일) 중 메인 행사로 열리는 디파인 컨퍼런스에는 국내외 주요 기업들과 블록체인 프로젝트들이 대거 참여할 예정이다.
---
[광고]