The views and opinions expressed here are solely those of the author and do not necessarily reflect the views of CURATION. Every investment and trading move involves risk. You should conduct your own research when making a decision.
Current Market Price @CryptoCompare
---
Crypto Update: Ripple Spikes Higher Again As Bitcoin Continues To Struggle [hacked.com]
이 슬라이드 쇼에는 JavaScript가 필요합니다.
The major cryptocurrencies had a bullish start to the week, as, despite the gloomy weekend, the top altcoins trended higher throughout the Monday, with XRP and ETH leading the charge. XRP made the most progress from a technical perspective, but the rest of the majors failed to recapture key resistance zones, leaving the broader downtrend intact in the segment.
BITCOIN'S 'NEVER LOOK BACK' PRICE PROMISES STEADY LONG-TERM GAINS [bitcoinist.com]
In many ways it is charting the increasing numbers of HODLers of last resort, those who will not sell bitcoin at any price. These include buy-and-hold investors, accumulators, and those who intend to transact in bitcoin over the longer-term. As Bitcoin adopters, this group provides a floor value to BTC price. Of course, this is not a model per se, and cannot be used to make any kind of prediction as to the future price of bitcoin. NLB price cannot be extrapolated in advice, after all.
Bitcoin Has Potential to Boost Investment Portfolio Returns, VanEck Says [thebitcoinnews.com]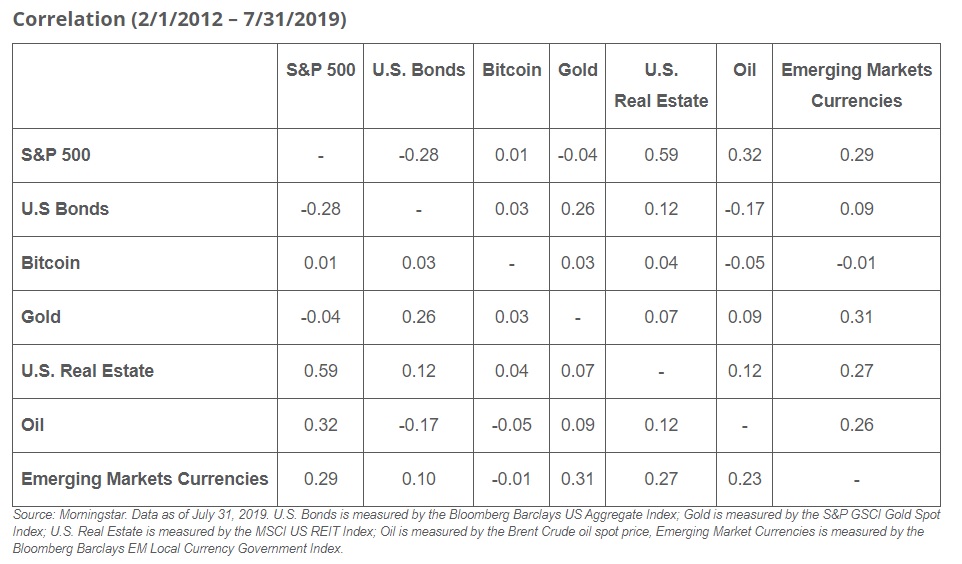 BITCOIN MAY POTENTIALLY INCREASE PORTFOLIO DIVERSIFICATION BECAUSE OF ITS LOW CORRELATION TO TRADITIONAL ASSET CLASSES, INCLUDING BROAD MARKET EQUITY INDICES, BONDS AND GOLD.
Bitcoin Eyes Price Rally as Fed Announces Pseudo-QE [newsbtc.com]
Bitcoin is about to become a hot asset as the US central bank goes ahead with its pseudo-quantitative easing program, believes a few bigwigs.
Travis Kling, the chief investment officer at California-based Ikigai Asset Management, called bitcoin "an insurance policy" against Jerome Powell's decision to resume Treasury purchases. The Federal Reserve chairman on Tuesday confirmed that they would purchase short-term bonds to expand their balance sheets.
If Bitcoin Price Dips Under $8,000, I'm Buying, Says Titan Ventures Co-Founder [u.today]
Recently, the Bitcoin price experienced a major correction when it lost over $1,000 within a few hours and around 15 percent within a week. Many prominent investors and Bitcoin bulls, such as Mark Yusko from Morgan Creek Capital, or the angel investor Anthony Pompliano, published Twitter posts saying that it is time to buy BTC while it has gone cheaper.
New DCG Report highlights confidence in asset tokenization and bitcoin as 'store of value' [theblockcrypto.com]
Nearly 23% of Digital Currency Group (DCG)'s portfolio companies think asset tokenization will be the second-largest use case for blockchain, following payments, according to a recent report by DCG. The report was based on two polls the firm conducted with founders and CEOs from startups on its investment portfolio. An overwhelming 71% think "store of value" will be bitcoin's biggest use case in the next five years, followed by payments network. Meanwhile, 30% of the survey respondents regard payments as the most prominent use case for blockchain and named Libra as the most surprising industry development in 2019.
Deribit Announces Launch of Market Research Publication 'Insights' [zycrypto.com]
Dutch-based cryptocurrency derivatives exchange Deribit has announced it is starting up a weekly publication covering in-depth research on the digital asset markets. The publication will be called "Insights" and will provide analysis of events and developments past, present, and future, free to read for everyone. The first report is already out, focusing on the liquidation mechanisms used by the different cryptocurrency derivatives platforms.
Major Korean Convenience Stores to Accept Won-Based Stablecoin (But No Mention of Bitcoin) [altcoin.media]
The notion of normalizing cryptocurrencies for payments has taken a significant leap forward with the announcement that CU convenience stores in South Korea will be accepting cryptocurrency as a form of payment through a partnership with blockchain startup Terra.
Terra has partnered with Chai, a Korean mobile payment service that will allow a Korean Won-based stablecoin, which operates on the Terra blockchain, to be accepted at the 13,500 CU stores across the country.
Vanguard Developing Blockchain Platform for $6 Trillion Forex Market [coindesk.com]
Mutual fund giant Vanguard has partnered with Nasdaq Ventures-backed blockchain startup Symbiont to develop a trading platform for the $6 trillion currency market, the companies said.
With the new platform, Vanguard, which manages $5.2 trillion, aims to lower transaction costs for the trillions of dollars worth of currencies it trades annually by boosting peer-to-peer trading for investors, connecting them directly via blockchain technology.
Facebook's Libra to Be Forked to 'OpenLibra' [coinspeaker.com]
When Facebook's cryptocurrency Libra started struggling with keeping its co-workers to keep partners on board and all of the institutions happy, an alternative called OpenLibra came to address some of Libra's potential flaws. OpenLibra is described as an "open platform for financial inclusion," with a tagline: "Not run by Facebook" and it was announced at Ethereum Foundation's Devcon 5 conference in Osaka, Japan.
Grayscale: Institutional Investors Have Been Investing In Crypto For A Long Time [usethebitcoin.com]
Institutional investors have been investing in Bitcoin (BTC) for a long time now. This is according to Grayscale senior executive Rayhaneh Sharif-Askary that talked a few days ago with The Block.  During this interview, the director of sales and business development for Grayscale, Rayhaneh Sharif-Askary explained that business had been consistent while growing throughout the year. She mentioned that they registered $85 million from investors during the second quarter of this year. This is two times more than the investments registered during the first quarter of 2019. At the same time, 80% of these funds came from institutional investors.
Bitwise Head of Research Confident About Bitcoin ETF Approval [btcmanager.com]
Few days before the United States Securities and Exchange Commission (SEC) decides to approve or deny Bitwise's bitcoin exchange-traded fund (ETF) application, the Head of Research, Bitwise Investment, is optimistic that the company is closer to getting its Bitcoin ETF, according to a report by CNBC on October 7, 2019. The Bitwise executive's optimism comes amidst bitcoin's price crash in the past two weeks.
Binance Introduces Peer-to-Peer Trading to ease use of Crypto and Encourage Adoption [coinspace.com]
The company's contribution to the space is far from over as it has just introduced peer-to-peer trading of cryptocurrency on its platform. This is immediately available for trading BTC, ETH and USDT against the Chinese Yuan (CNY). For now, only Android users who have registered on Binance for at least 30 days have access while iOS and web users will be included later. Although it does not say anything about KYC requirements, this seems to imply that only verified customers can access the service.
Pro-Crypto Billionaire Tim Draper Says Bitcoin Will Be Faster Than Visa, Banks and Governments Losing Control of Currency [dailyhodl.com]
"Most currencies were started just because people trusted them. It started out being shells and then it was gold and then it was the promise of gold. And now it's a promise that the government would back you up, which is a little less of a promise…

All of a sudden, we have a currency that is not tied to a government and not tied to a geographic territory. That frees us, because governments have always used that currency to control. To, in some ways, keep controls over that currency. We can operate across borders much more easily. We can move money across borders much more easily. And we reduce the friction significantly…
---
[광고]