The views and opinions expressed here are solely those of the author and do not necessarily reflect the views of CURATION. Every investment and trading move involves risk. You should conduct your own research when making a decision.
Current Market Price @CryptoCompare
---
Updating Live: Zuckerberg Hearings Before Congress on Libra [cointelegraph.com]
In a much-anticipated meeting of politics and tech, Facebook CEO Mark Zuckerberg has finally made his way to United States regulators. He will be testifying before the House Financial Services Committee on Facebook's Libra. The planned stablecoin has been the subject of much controversy since it's June whitepaper. Days after, Chairwoman of the committee Maxine Waters called for a moratorium on Libra's development.
Crypto Bloodbath: Bitcoin [BTC] Slips to $7.5K; $200 MM Longs Liquidated on BitMEX [coingape.com]
Bitcoin price has dropped by almost 9% followed by the liquidation of 200 MM of shorts on BitMEX. Top 10 coins have also dropped by significant numbers. Furthermore, the crypto market suffered a loss of $16 billion.
Flash Crash Sends Bitcoin Price Below Key Moving Average [newsbtc.com]
Ouch. Over the past few hours, Bitcoin has finally seen some volatility play out after a multi-week lull, plunging below $7,500 after holding in the low-$8,000s for days on end. Per previous reports from NewsBTC, this move largely caught traders off guard, with there being a massive long liquidation event of over $200 million on BitMEX amid this crash. While the selling pressure has paused, there are some technical signals that imply bearish continuation over the coming days.
Long Orange Squeeze: Bitcoin's Sudden Tumble A Result Of BitMEX Liquidations [cryptobriefing.com]
The bulk of the fall occurred at 8:41 Eastern Time, quickly falling to a minimum of $7,455 for one BTC. Some Twitter users are speculating that the fall may be caused by a sudden sell of 3600 BTC on Bitstamp, which cascaded on other exchanges as well. An analysis from TradingView data shows that the fall may indeed have originated from Bitstamp, as it started about 10-15 seconds before exchanges such as Coinbase and Bitfinex.
Bitcoin Futures surge as Spot in a spot of bother [ambcrypto.com]
According to data from Skew Markets, BitMEX recorded the highest 24-hour Bitcoin Futures volume with $2.28 billion traded so far. With a deficiency of over $1 billion, Huobi took the second spot with $1.27 billion volume, while bitFlyer, CoinFlex and Binance took the following spots with $740 million, $610 million and $600 million in 24-hour trade volume, respectively.
Bitcoin Price Movement Looks Like 'Absolute Garbage,' Claims Analyst [altcoin.media]
To further accentuate the growing difference between Bitcoin and the banking sector, the recent protests in Lebanon have caused banks to close for the sixth day in a row. Many people were quick to point out that the same could not have possibly happened if Bitcoin were used as a store of value instead.
BAKKT BITCOIN TRADING VOLUME SETS NEW RECORD AFTER FLASH CRASH [bitcoinist.com]
Bitcoin just lost over $500 in a few minutes, and apparently, institutional investors went crazy. On Bakkt, trading volume for its Bitcoin monthly futures almost hit 350 BTC today. The indicator might exceed the 1,000 threshold by the end of the day.
Gold Price Regains Its Shine as U.S. Economy Flashes Two Warning Signals [ccn.com]
The price of gold rallied on Wednesday and was making a fast return to $1,500 as investors weighed the multitude of risks facing the U.S. economy. The latest warning signal came from the housing market after existing home sales tumbled much more than expected in September.
Searching for Maximum Profit: When will Bitcoin be Huge Again? [coinidol.com]
Bitcoin has a long term reputation as the top cryptocurrency. While being the most popular, expensive and volatile coins, Bitcoin remains alive and kicking despite the dramatic price rise and falls. The Bitcoin price depends on the trust of its users even more than any other payment method. Even short pinions of famous bankers and business people influenced the price of BTC several times in its past.
Bitcoin, Ethereum, XRP Experience Monumental Losses As Market Drops $12 Billion In Minutes [zycrypto.com]
Bitcoin (BTC) has been bearish for the past four months. After hitting its Year to date all-time high, its been on a free fall, breaking major support lines. The same can be said about Ethereum (ETH) and XRP cryptocurrencies. A recent hit on the market sees over $10 billion wiped out of the market in a few minutes.
Bitcoin dropped in four minutes, Millions sold in just one exchange, Wall Street manipulation [trustnodes.com]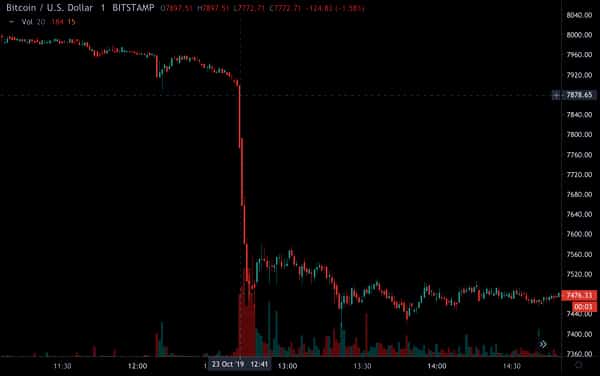 Bitcoin's sharp fall of minus 7% was all within just four minutes when around 400 BTC was sold on just Bitstamp. 124 BTC were sold at 12:41 London time, bringing the price down from $7,900 to $7,700. A small attempt at bouncing back was met with the sell off of 115 bitcoins at 12:42, bringing the price down to $7,600.
U.S Lawmakers Consider Bill to Place Stablecoins Under SEC Regulations [coinspace.com]
The United States has recently placed some strict restrictions on stablecoins because of concerns voiced about the risk of stablecoins ruining the existing financial system. This probably has something to do with Libra which the U.S lawmakers are not very comfortable with allowing to launch. Now, they are considering a draft bill to categorize stablecoins as securities.
What you need to know about cryptocurrencies and gambling [thecoinshark.net]
The gambling sector hasn't changed very much since the first bookmaker opened its doors over 240 years ago. You could say, as the old adage goes, that "if it ain't broke, don't fix it". However, the gambling sector has only had the opportunity to grow horizontally, rather than vertically. Until now that is.
So, what's changed?
Mark Zuckerberg Warns Crypto Innovation Is Vital to Let US Keep Its Financial Leadership [u.today]
Cover image via www.forbes.com
As the CEO of Facebook testified in front of the House of Representatives Financial Services Committee in the Congress today to get his message about unbanked US citizens benefiting from the use of Libra, he said that America may lose its financial leadership unless it permits fintech innovation and supports Libra.
---
[광고]