The views and opinions expressed here are solely those of the author and do not necessarily reflect the views of CURATION. Every investment and trading move involves risk. You should conduct your own research when making a decision.
Current Market Price @CryptoCompare
---
Bitcoin Price Tests $9K as Analyst Eyes 'Significant' Indicator Cross [cointelegraph.com]
Data from Coin360 showed BTC/USD down around 3.2% on Wednesday, having spent the previous day circling $9,500. Those levels ultimately saw rejection, with Bitcoin preparing to challenge support at $9,000 at press time. On the week, BTC/USD was still up 15%. According to market analyst filbfilb, an upcoming technical signal based on moving averages (MA) suggested that overall, markets remained in a bullish mood.
Bitcoin Price Analysis: $9,000 Not Enough Support For A Rally But What About $8,800? [coingape.com]
The short-term one-hour chart openly displays a building bearish trend that is likely to break the key $9,000 support. With the Relative Strength Index (RSI) almost at the oversold, it is becoming apparent that $9,000 is not a strong enough support to push for a reversal really to $10,000. However, if Bitcoin tests the next support target at $8,800 (a previous resistance level) the extremely oversold conditions are likely to result a significant recovery.
WHO CAUSED THE 42% BITCOIN (BTC) RALLY? [bitcoinist.com]
But then, the markets were on fire, with the common cause seen as "the Xi Effect". The recent statement by Chinese president Xi Jinping that the country was taking a pro-blockchain stance, seemed to spark a market rally. The most active traders, however, were not the Chinese, but Western markets, according to research by TokenAnalyst.
Bitcoin Calm ahead of Federal Reserve's Rate Cut Verdict [newsbtc.com]
Analysts/speculators within the cryptocurrency industry consider that dovish monetary policies are bullish for bitcoin. The injection of new money into the market, coupled with cheaper lending against growing fears of a recession, increases investors' appetitive for assets. Bonds, Gold, and equities – all perceived safe-havens – this year surged due to one of those sentiments.
Will Bitcoin's Daily Flag be Enough to Spark the Next Rally to $13,900? [zycrypto.com]
Bitcoin has maintained a strong daily uptrend after the recent breakout above $10,000. The bulls were not able to hold $10K but they remain strong with trading volume in their favor. The daily EMAs have crossed bullish and they will act as support if the bears are able to take down the $9,000 level.
Another Bitcoin Price Decrease Predicted by Wyckoff Distribution Method, Notes Analyst [altcoin.media]
Based on just the length of the previous phases, the markdown is likely to go on for, at least, a couple more weeks. It has been going on for only 35 days, being the shortest one by a significant margin. If it continues its downward movement, a likely level for its end would be the $6700 level — in which both previous support areas and the 0.618 Fibonacci level converge. This view is supported by the current bearish cross between the 10- and 20-week moving averages (MA). The next level of support is found near $5000 — right at the 200-week MA, which is moving upward.
Crypto Lending Business Continues to Boom with Genesis Capital Breaking New Record in Q3 [u.today]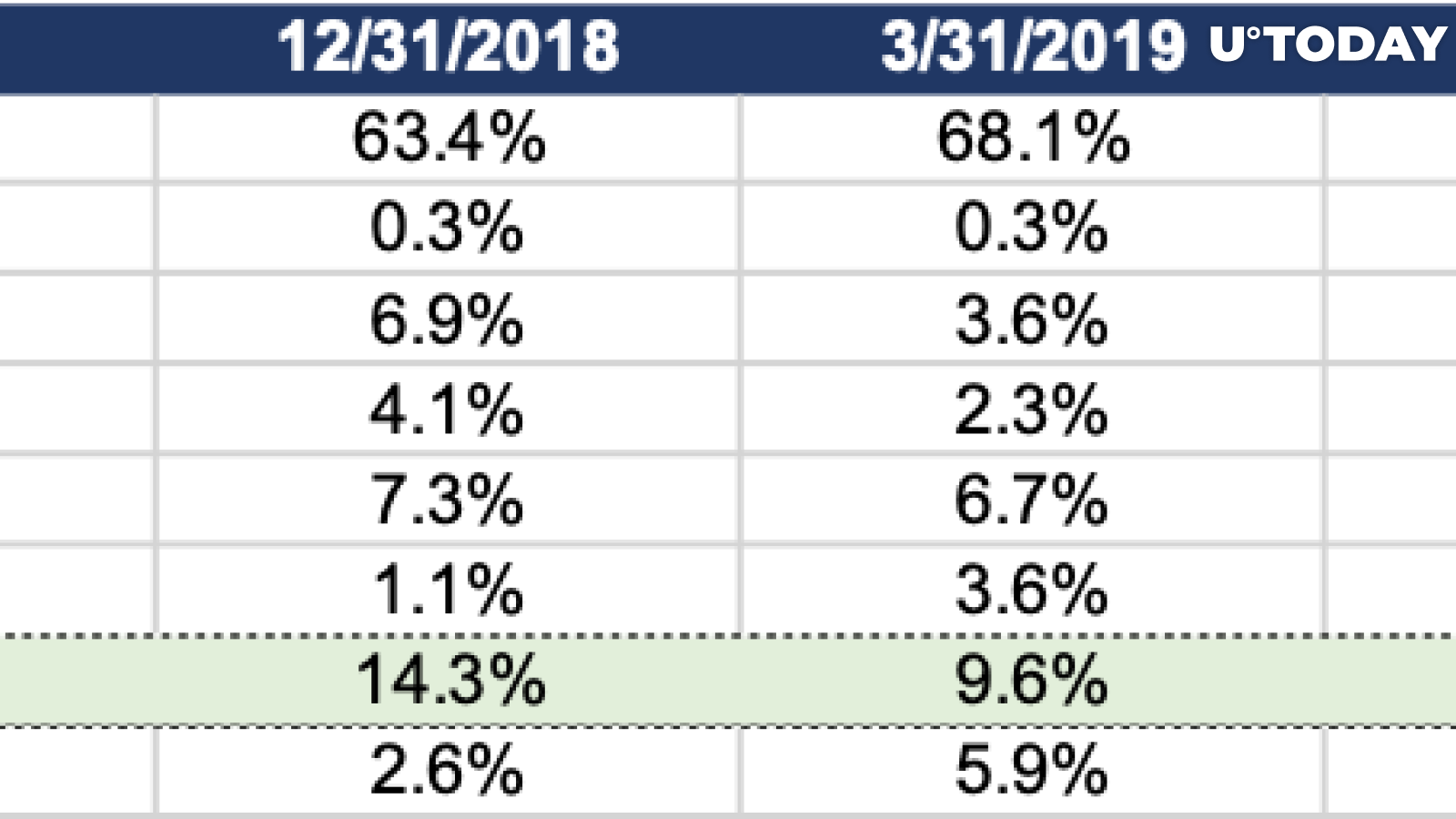 Barry Silbert's Genesis Capital, which ventured into lending back in March 2018, has just released a new quarterly report. In Q3, the company managed to rake in a staggering $870 mln in new originations, which represents a 38.1 percent increase quarter-over-quarter (QoQ).
CoinList Raises $10M with Twitter CEO Jack Dorsey's Backing [coin360.com]
CoinList, based in San Francisco, has been around since 2017 and acts as a platform for different startups to raise capital through the selling of tokens, among other things. According to a report from The Wall Street Journal, CoinList connects blockchain-related companies that have passed through an extensive regulation-specific inspection process with interested investors, and, since its launch over two years ago, it has successfully raised more than $800M worth of tokens for projects like Blockstack, Filecoin, Algorand and Dfinity.
Crypto Traders: Leading Bitcoin Data Aggregator CoinGecko Rolls Out New Tools for Over 100 Derivatives Products [dailyhodl.com]
Cryptocurrency traders can now access a suite of new tools tracking crypto derivatives. Data aggregator CoinGecko has announced the release of its new derivatives section to display aggregated metrics for crypto derivatives products such as perpetual swaps and futures.
Zuckerberg's Libra hearings show that regulators just don't get digital assets [ambcrypto.com]
Let's face it; no lawmaker was prepared for Libra. Facebook's digital currency project was unveiled in June 2019 and took the regulatory world by storm, confirming to Silicon Valley that politicians do not understand how the world of digital payments really works. The confusion and fervour was perhaps best encapsulated in last week's Congressional hearings featuring Facebook CEO Mark Zuckerberg. While this time there was no confusion between Libra, the digital currency project, and LIBOR, the London Inter-bank Offer Rate, it is quite clear that Zuckerberg and Congress were reading from different scripts.
Leaked Transcript Details Power Struggle Inside Bitcoin Mining Giant Bitmain [coindesk.com]
A partial transcript of an internal meeting at Bitmain on Tuesday details a long-running power struggle that led to the sudden ousting of co-founder Micree Zhan.
The conflict between Zhan and fellow co-founder Jihan Wu came to a head in December 2018 as the company pursued a round of layoffs.
In Tuesday's emergency meeting called by Wu, he admitted the company has had a subpar 2019, exacerbating tensions among top executives.
The abrupt dismissal of Zhan comes just one week after Bitmain filed for another IPO attempt in the U.S., according to a report by Tencent News.
Staking Coins vs. Dividend Stocks vs Bonds vs. Savings Accounts: A Comparative Analysis [bitcoinmarketjournal.com]
In the traditional financial markets, the most common interest-bearing investment vehicles are bonds, dividend yielding stocks, and high yield savings accounts. Each has its pros and cons, but how do they compare to the cryptocurrency "investment vehicle" of PoS staking? To help you understand how traditional interest-bearing investment fare compared to cryptocurrency staking, Bitcoin Market Journal has analyzed and compared PoS staking rewards with returns of traditional investments.
Best Cryptocurrency Trading Strategies [crypto-economy.com]
Every trader has a trading strategy but successful traders have not just one but multiple winning strategies that they use at appropriate times. One strategy may work for one scenario but completely falter in another. Having multiple strategies ensures that the trader keeps on winning regardless of the market action. In this article, we will look at some of the best cryptocurrency trading strategies you as beginner can look to take advantage of in your journey to becoming a successful trader.
Will Bakkt's Bitcoin Options Change the Cryptocurrency Industry? [coinspeaker.com]
To refresh our memory, Bakkt, which is backed by New York Stock Exchange (NYSE) and the Intercontinental Exchange (ICE), recently in late September launched its long-awaited Bitcoin Futures platform, where investors and traders can physically exchange Bitcoin. Now, after the exchange has hit new record volumes, Bakkt announced that they will be offering Bitcoin options by December 9, 2019.
More news and community @Publish0x
---
[광고]