The views and opinions expressed here are solely those of the author and do not necessarily reflect the views of CURATION. Every investment and trading move involves risk. You should conduct your own research when making a decision.
Current Market Price @CryptoCompare
---
Bitcoin Price Dips Below $9K Support as Traders Weigh Correction Odds [cointelegraph.com]
Data from Coin360 showed BTC/USD dipping below the $9,000 mark in Thursday trading — a level that has acted as support since last weekend. At press time, the largest cryptocurrency was circling $9,050, having bounced off a local low of $8,960. BTC broke support after three days of slow grind down from an area closer to $10,000. 24-hour losses currently total 2%, while compared to a week ago, Bitcoin is still up more than 20%.
Bitcoin's Price Movement 'Looks Terrible,' Claims Analyst [altcoin.media]
Today, more positive news for the cryptocurrency industry flowed in when the Chinese government announced that it was releasing a series of instructional videos on cryptocurrencies — including specific ones on Bitcoin and Ethereum. This is especially positive since, during the speech by President Xi, no cryptocurrencies were mentioned. While the Chinese government has announced plans to release its own state-backed cryptocurrency, this might mean that there are plans in store for the existing decentralized cryptocurrencies.
Bitcoin: The next 36-48 hours look gloomy; $7,800 ahead? [ambcrypto.com]
Bitcoin has been on a rocky ride for the past week, considering its dip and the immediate and exponential pullback. The price closed after a 35% hike, but it shot up by 38% in over 16 hours. Some speculated that this was due to Chinese President Xi Jinping's blockchain announcement, while others attributed this rise to Tether. Regardless of the reason behind the surge, the price has shot up and it has been consolidating for over 5 days now. This consolidation has fit into a descending triangle, a bearish pattern. The price of BTC is nearing the end of the pattern, indicating an impending bearish run for Bitcoin.
TOP 3 Price Predictions: BTC, ETH, XRP — Bullish Reversal Is Coming to Naught [u.today]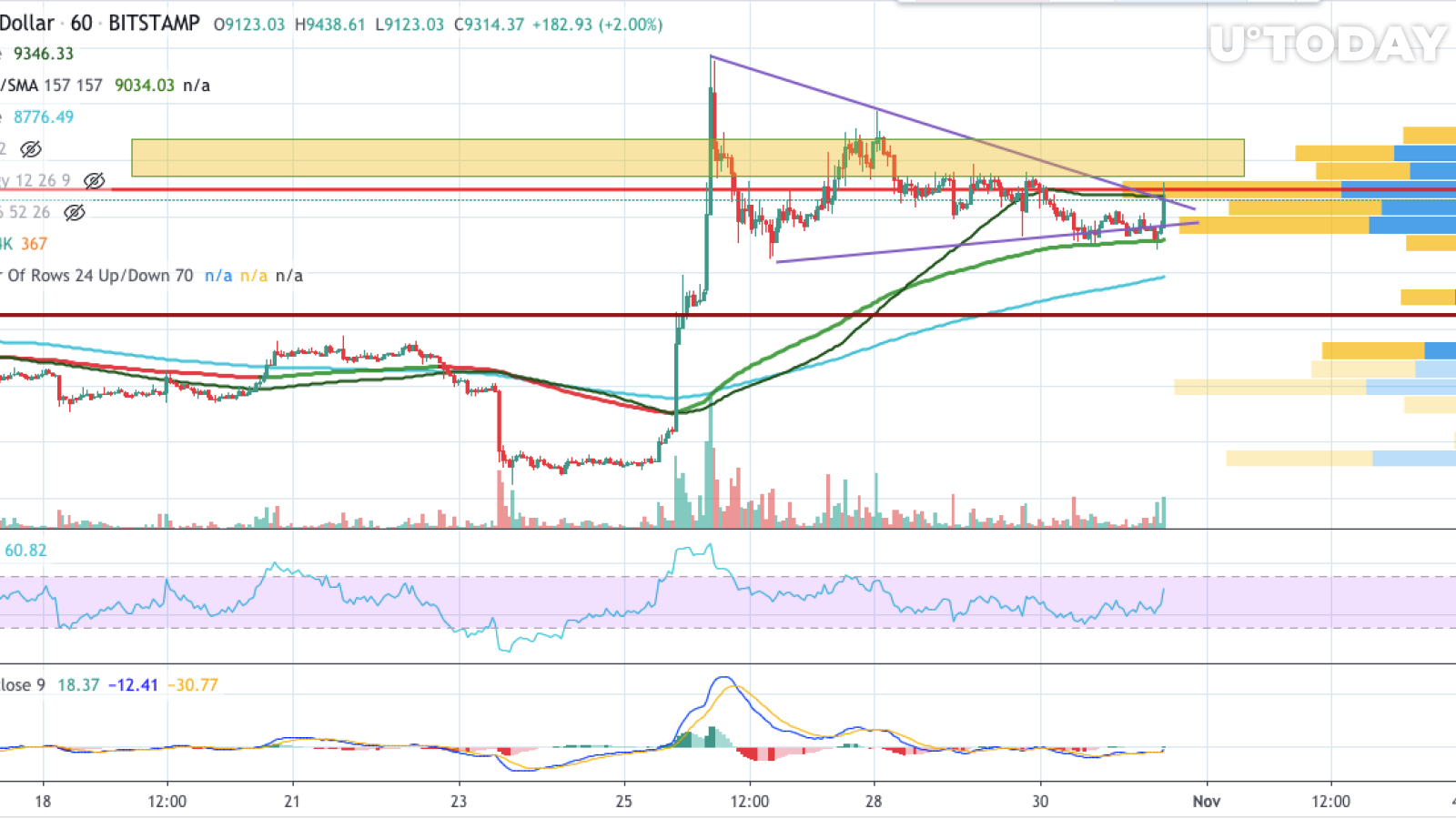 Although the cryptocurrency market is in a correction phase after the leading crypto rocketed upwards to $10,500, the bulls keep fighting for the $9,000 mark. The top coins are not reacting significantly to the price movements of Bitcoin (BTC). Instead, the majority of the top 10 digital assets are stagnating at their previous levels.
Bitcoin and Ether Market Update: October 31, 2019 [btcmanager.com]
Total crypto market cap lost $7.5 billion of its value since Monday, October 28 and now stands at $244.8 billion. Top ten coins are all in red for the last 24 hours with Bitcoin SV (BSV) and TRON (TRX) being the worst performers with 4.6 and 4 percent of loses respectively. At the time of writing bitcoin (BTC) is trading at $9,110 on the Bitstamp daily chart, while ether (ETH) stands at $182 and Ripple's XRP stays around $0.293.
Gold Price Smashes Five-Week Highs amid Dow Bloodbath [ccn.com]
The price of gold surged to more than five-week highs on Wednesday.
U.S. stocks plunged over trade-deal uncertainty.
Risk sentiment wavers following 'hawkish rate cut' from the Federal Reserve on Tuesday.
CME Releases Bitcoin Options Specifications [coinspace.com]
In a blog post, the CME stated: "In response to the growing interest in cryptocurrencies and customer demand for tools to manage bitcoin exposure, CME Group will launch options on Bitcoin futures (BTC) in early 2020:*" According to the announcement made on its official website, the Chicago-based exchange also revealed that the plans are still subject to approval by the U.S. Securities and Exchange Commission (SEC).
US, EU and UK Companies Can Now Pay Workers in Bitcoin Cash via Bitwage [bitcoin.com]
Getting at least partially paid with cryptocurrency is a great way to enter the digital asset market without having to do any trading. If you are looking to earn your favorite crypto asset, Bitwage now allows American, European and British companies to pay workers in bitcoin cash following demand for more payment options.
Bitcoin (BTC) Facing First Global Recession, How Will Prices Fare? [cryptovest.com]
Bitcoin(BTC) has so far lived through a decade of growing economic activity. But now, indicators are pointing to a recession, which cannot be remedied by central banks. Despite rock-bottom interest rates, and liquidity injections, the world's leading economies may see a slowdown. BTC made its biggest gains and rallies in a decade of economic expansion, which saw the ascent of tech giants. Now, the tide may be turning.
Crypto Analyst Calls 991% Bitcoin (BTC) Boom Conservative, Forecasts Future of XRP, Litecoin, Dash, Zcash and Monero [dailyhodl.com]
Dergunov, who is known for his bullish BTC predictions, points to China's increasing friendliness towards crypto as one reason for his optimism.
The AIG founder also predicted bullish futures for a number of altcoins, including Litecoin, Dash, Zcash and Monero. He says XRP's price, in particular, could "explode much higher in the future" if it is increasingly adopted by financial institutions. Despite his bullish outlook, Dergunov highlights the extremely risky nature of investing in crypto assets, noting that government bans, exchange hacks and other pitfalls could cause a collapse in the value of both Bitcoin and the altcoin market.
Bitcoin's Whitepaper Is 11 Years Old Today: What Has Been Developed Since? [cryptopotato.com]

Today marks an important anniversary for Bitcoin, as exactly 11 years ago, the pseudonymous creator of the protocol, Satoshi Nakamoto, published its whitepaper. It goes without saying that a lot has happened since then, so let's have a figurative walk down memory lane and see how the network has improved over the years.
Bitcoin to See Colossal Golden Cross in 2019, Could Precede Price Boom [newsbtc.com]
He argued in a recent Twitter thread that by the end of November or start of December, the 50-week and 100-week moving averages will see a "golden cross," which he claims is far more significant" for the Bitcoin market that other technical crosses. As Filb's chart below depicts, the last time the 50-week crossed above the 100-week, Bitcoin rallied for months straight, surging to fresh highs month in, month out. Historical precedence would suggest the same is about to happen… again.
29% Americans Still Believe US Dollar is Backed by Gold, Study Finds Out [coingape.com]
A recent study by the world's leading hash provider, Genesis Mining has revealed some interesting findings on how the average American perceives money and banking. The study is titled, "Perceptions of Money and Banking in the United States 2019."
Bitcoin Dissident Sees Dark Warnings in China's Blockchain Push [coindesk.com]
China's recent multi-front embrace of blockchain technology has divided the global cryptocurrency community. While some see it as helpful validation, others worry that crypto is diverging further from its anti-authoritarian roots. Authorities in China have long discouraged investment in grassroots cryptocurrencies like bitcoin. But the world's most populous country is making significant progress with plans for a national cryptocurrency that could increase the government's surveillance powers over the economy.
More news and community 'dobobs@Publish0x'
---
[광고]