The views and opinions expressed here are solely those of the author and do not necessarily reflect the views of CURATION. Every investment and trading move involves risk. You should conduct your own research when making a decision.
Current Market Price @CryptoCompare
---
'Bullish for Bitcoin' — China Scraps Plans to Ban Cryptocurrency Mining [cointelegraph.com]
The change came via a new edition of China's Industrial Structure Adjustment Guidance Catalog, which will take effect from the start of 2020.
"China's National Development and Reform Commission has removed #cryptocurrency mining from the list of industries they want to eliminate. Bullish for Bitcoin," Mow commented. A previous incarnation of the document earlier this year had conversely included Bitcoin mining as one of the government's targets.
Bitcoin Enters Selling Trend as $10,000 Level Serves as Barrier [bloomberg.com]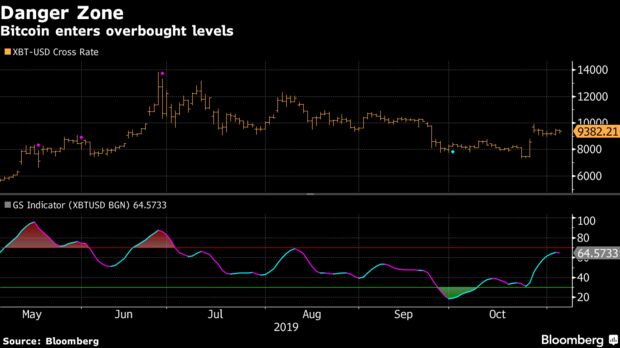 Following October's rally, a technical indicator is showing that Bitcoin is entering overbought levels. The cryptocurrency's Global Strength Indicator, a measure of upward and downward movements of successive closing prices, is nearing the 70 level, meaning its price is likely to soon decline after becoming overheated.
Crypto Analyst Says $1 Million Bitcoin Call 'Massively Over-Hyped' – Plus Ripple and XRP, Litecoin Updates [dailyhodl.com]
A well-known crypto analyst says a model that's increasingly used to predict the price of Bitcoin is getting far more attention than it deserves. According to Alex Krüger, the stock-to-flow ratio, which tracks the circulating supply of an asset against the amount produced per year, is not a reliable tool to determine where BTC is heading in the long run. Krüger says the model, which forecasts that BTC could hit the $1-million mark by 2025 based on the asset's increasingly limited supply, is inherently flawed.
Bakkt Bitcoin Futures Contracts Top $10 Million in Daily Volume Again [altcoin.media]
Towards the end of October, Bitcoin futures contract volume hit its all-time high of $10.3 million, more than doubling its previous all-time-high of $4.8 million. On Tuesday, the $10 million mark was once again breached with the past ten days showing markedly better performances than the opening weeks of the future's platform.
In the era of Bitcoin, what is the relevance of Howey Test? [ambcrypto.com]
With innovation comes the need to "define." The need to 'legally,' define what Bitcoin, and the other cryptocurrencies is deemed as important to lawmakers as the disruption they were setting about. Thus the question was surfaced, "What is Bitcoin legally?" and more specifically, "Is Bitcoin a security?," to answer that, the United States Securities and Exchange Commission [SEC] employed what would rattle the cryptocurrency world every time it was mentioned – The Howey Test.
SURVIVING ON BITCOIN FOR A DAY: INFLUENCER RYAN TRAHAN DOES A TEST RIDE [bitcoinist.com]
His first attempt ended in a failure, as food trucks said a no to his requests for BTC payments. Eagle, Texas, has a single Thai restaurant that promised to accept Bitcoin. Luckily, Ryan Trahan managed to get a meal, but he had to cheat and use another method to pay. The restaurant only tested the waters with BTC, accepting the coins for a few months in the past. Coinmap, the app showing locations that accept Bitcoin, revealed only outdated locations and restaurants that were not in business.
50% of Total Bitcoin Options Open Interest To Drop In December- Will Bitcoin Price Rise? [coingape.com]
In case previous scenarios are considered, one or two weeks prior to the expiry, new quarterly contracts will be rolled out. Subsequently, open interest will decrease in December and then increase again in March. CME futures will expire in December and this would lead to a decrease in the open interest.
China Is 'Bullish for Bitcoin' as Government Suspends Crypto Mining Ban [zycrypto.com]
For a long time, China has been known as a somewhat anti-Bitcoin country as it has made countless efforts to throw off the Bitcoin community in the country, even going as far as banning mining and other crypto-related activities. However, things seem to be changing slowly as the country seems to not just be in support of blockchain technology, but has also decided that it will not frustrate the Bitcoin mining industry.
Coinbase Legal Chief Recommends Private Sector Create a Digital Dollar [cryptoglobe.com]
In an essay published on Fortune Nov. 4, Brian Books called upon the private sector to develop America's digital currency and ensure a "strong United States financial system." According to Brooks, private corporations are better positioned to design a digital dollar compared to government bureaucracies. In addition, Brooks believes the U.S. government should take a back seat on the digital dollar as opposed to policing the currency's blockchain.
Bitcoin Sideways Pound Unmoved as the very Close Brexit Electionis Now On [trustnodes.com]
The Queen has dissolved parliament today, marking the official beginning of the five weeks election campaign in a defining moment for the United Kingdom. The race is between Boris, Corbyn, and Jo, with Farage poking at all three, while the country looks on at the completely different visions. What happens here matters, and matters a lot, not just for Britain or just for Europe, but the entire world.
Positive Regulation Hasn't Yielded Positive Outcomes for Hong Kong's Crypto Funds [btcmanager.com]
Hong Kong announced a progressive policy implementation last year that would allow fund managers to invest in crypto assets. This hasn't produced expected results as only one fund has been confirmed to have cleared the regulatory hurdles set by the Securities and Futures Commission (SFC). According to Reuters, several funds in the region have even shifted their domicile offshore to avoid strict regulation, November 5, 2019.
Bithumb Chain: Not Just Another Exchange Blockchain? [cryptobriefing.com]
Bithumb Global has confirmed it is developing its own blockchain. The Korean cryptocurrency exchange announced today that the Bithumb Chain will "aspire to connect many moving pieces in a finance ecosystem" using a decentralized open protocol.
'Party Starters': Stellar Event Sees Frank Discussion of Crypto Market Makers [coindesk.com]
If a startup hopes to release a token without embarrassing itself in the early days, there is one important thing it should do: hire a market maker. That was the message from a panel Monday at Stellar's Meridian conference in Mexico City. "Market makers provide this initial step where you can start trading," said Sergey Yusupov, the founder of Stellar infrastructure startup Apay. Thomas Scaria, a recent alum of payments firm Wyre and who's now working on a stealth-mode ethereum startup, described market makers with a metaphor: "You want your cool friends to show up early to the party so it looks like something is happening," he said, adding:
This Is Why Bitcoin Price Could Hit $55,000 Next Year: Crypto Zombie in Trader's Digest [cryptopotato.com]
If you've ever watched Bitcoin-related videos on YouTube, you've probably gotten to know K-Dub. K-Dub is a 32-year-old from New York who broadcasts live each day on his popular channel Crypto Zombie. Without a doubt, Crypto Zombie is one of the most popular channels around, with an astonishing number of over 90,000 subscribers as of writing this. Every night you can meet him on YouTube, and when I write 'meet him,' this really describes his attitude toward his thousands of loyal followers.
More news and community @Publish0x
---
[광고]