The views and opinions expressed here are solely those of the author and do not necessarily reflect the views of CURATION. Every investment and trading move involves risk. You should conduct your own research when making a decision.
Current Market Price @CryptoCompare
---
Bitcoin Price Tests $8,500 Support as Trader Warns of Further New Lows [cointelegraph.com]
Bitcoin has spent most of the week steadily eroding gains it made previously, first losing support at $9,000 and exiting a trading corridor that had previously kept it rangebound between $9,000 and $9,500. Opinions remain mixed about the near-term prospects for traders, but bearish sentiment is creeping in as losses continue.
TOP 3 Price Predictions for BTC, ETH, and XRP: Is the Market Ready for a Large Drop? [u.today]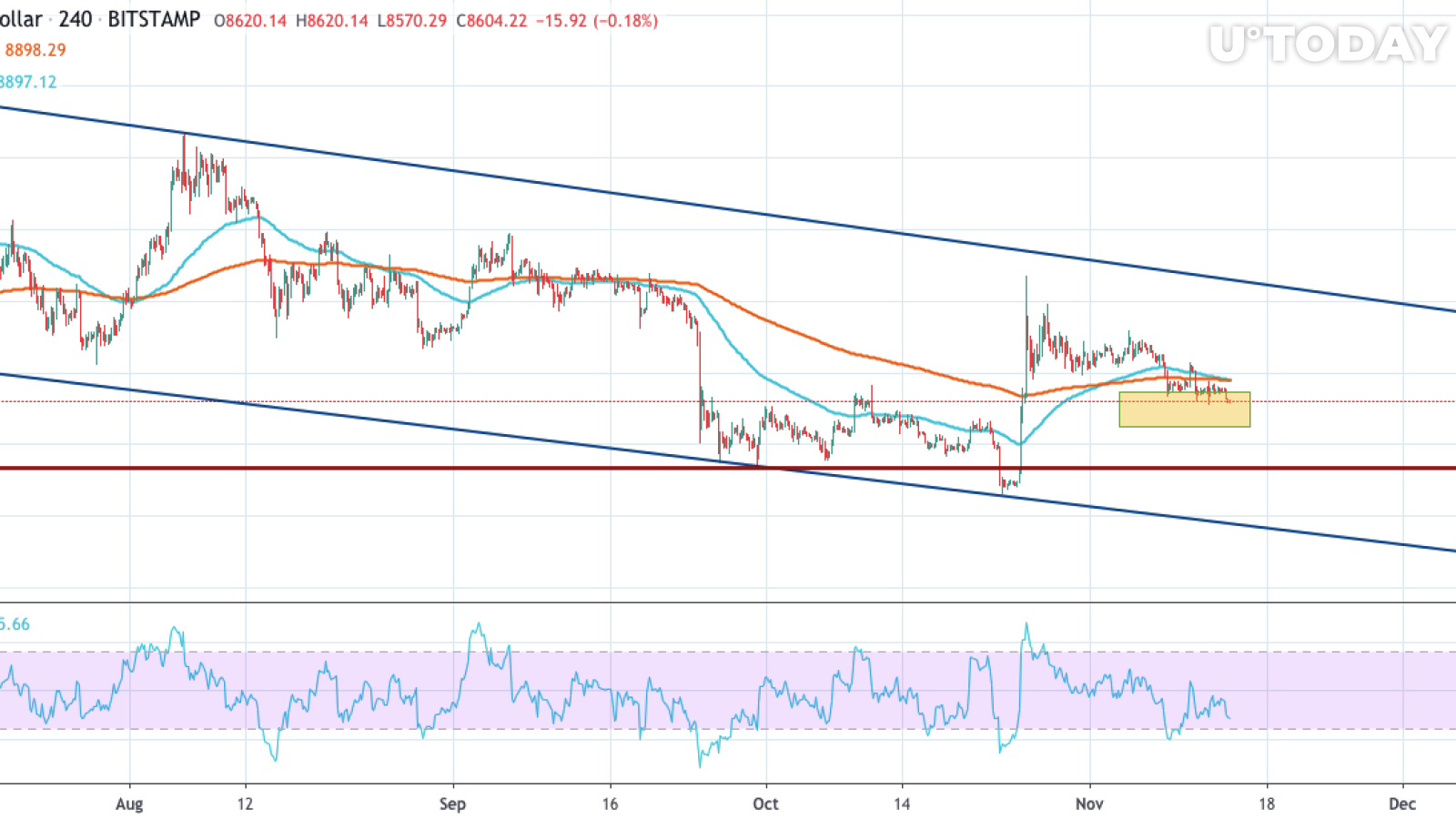 Our previous price prediction for BTC almost justifies itself as the rate is approaching the $8,400 mark. This cryptocurrency is continuously facing a correction, and is having to test out the support area at the moment. ETH is trying to withstand the overall market decline; however, the rate for this altcoin has dropped almost 1% over the last 24 hours. Analyzing the chart, the quotes are clamped within the "triangle" pattern. On the one hand, this indicates the presence of uncertainty and decreasing volatility.
Bitcoin Price Analysis: Gun Blazing Bears Leave No Stone Unturned, They Eye $8,000 [coingape.com]
Bitcoin is back in the red rough waters and this time the sea seems to be going deep. The headwinds towards $9,000 became overwhelming for the bulls who threw in the towel short of $8,800. The 4-hour chart for BTC/USD displays a deplorable technical picture for the largest cryptocurrency in the world. The Relative Strength Index (RSI) is grinding much closer to the oversold region (30 and below).
Dow Futures Crumble on Fears Trade Deal Could Blow Up Before Christmas [ccn.com]
The Dow, S&P 500, and Nasdaq all receded from their all-time highs.
The trigger for the decline appears to be a new trade war stalemate.
The US is refusing to roll back tariffs until after the deal is in place, while China is demanding that the agreement include tariff reductions.
The Dow Jones teetered on Thursday after the Trump administration came to loggerheads with China over the trade deal, and Beijing warned the White House that it has no plans to budge.
Bitcoin [BTC] – Chinese Bitcoin Mining Company Canaan Creative Seeking $100M in Upcoming US IPO [crypto-economy.com]
The recent revision of its filing was posted on the SEC website on Wednesday and it shows that Canaan, the manufacturer of Avalon Bitcoin miners will be listing 10 million American Depository Shares (ADS) retailing for between $9 and $11. The $100 million figure is significantly less than the place holder amount of $400 million that is listed in its initial application filing last month.
Bakkt in the game: Bitcoin Futures moving away from CME? [ambcrypto.com]
Even though it's been less than two months since its launch, Bakkt was the forgotten golden child of the Bitcoin market. Slated to be the prime catalyst that would take the king coin back to its all-time high, the Intercontinental Exchange's digital assets program underwhelmed, and 'Moon' had to wait.
Bitcoin (BTC) Price Looks Set For Another Breakdown [newsbtc.com]
Bitcoin price is extending losses and it traded below the $8,640 support against the US Dollar.
The price is likely to decline further below the $8,560 and $8,500 support levels.
Morning's short term breakout pattern was breached with support near $8,650 on the hourly chart of the BTC/USD pair (data feed from Kraken).
The current price action suggests another breakdown below the $8,550 support area.

Bitcoin price is declining below key supports against the US Dollar. BTC might tumble towards $8,300 or $8,200 once the bears clear the $8,550 and $8,500 supports.
Crypto Market Update: BTC, ETH, XRP, BCH, ADA, LINK, XTZ, and BAT [cryptoglobe.com]
This article provides: an overview of how Bitcoin (BTC), Ether (ETH), XRP, Bitcoin Cash (BCH), Cardano (ADA), Chainlink (LINK), Tezos (XTZ), and Basic Attention Token (BAT) have been performing over the past 24-hour period; a recap of interesting recent news that might have affected their prices (or might do so in the future); and recent useful observations from Crypto Twitter regarding these cryptocurrencies.
FED PRINTS 12.7 MILLION BITCOIN WORTH AS REPO BAILOUT INTENSIFIES [bitcoinist.com]
The New York FED added a whopping $111.9 billion to financial markets this week which is the equivalent of 12.7 million BTC. According to the WSJ, the intervention came in two parts; overnight repurchase agreements totaling $76.9 billion, and a 14 day repo totaling $34.9 billion. Crypto industry observer 'Rhythm Trader' didn't miss the irony;
Is the Bitcoin Halving Already Priced-In? [cryptobriefing.com]
A popular narrative among crypto pundits is that the Bitcoin price begins rising about a year before a halving event. Head of research at Blockchain and co-founder of Mosaic, Garrick Hileman, explained to Forbes in 2018, "In the months leading-up to the last two halving events we saw Bitcoin's price steadily trend upward, and then power higher following the reward halving."
PayPal's Axing of PornHub Model Payments May Boost Crypto Conversions [coindesk.com]
Top adult entertainment site Pornhub has revealed that PayPal has abruptly cut its payments service to the large numbers of live performers using its platform. In a blog post Thursday, PornHub wrote:
"We are all devastated by PayPal's decision to stop payouts to over a hundred thousand performers who rely on them for their livelihoods."
Bitcoin Bull Tone Vays Pits Ripple and XRP Against PayPal [dailyhodl.com]
Analyst and Adaptive Capital partner Willy Woo also hopped in the conversation, arguing that Ripple's success doesn't necessarily mean anything for XRP.
"It gets better than that. If you're using the native Ripplenet to transmit funds there's no need for XRP. I have no idea why people think Ripple Labs' success or failure reflects in this fund raising token."
XRP Liquidity Increased By 199,900% From $100,000 To $200 Million Daily [coinspace.com]
XRP is the cryptocurrency used by banks and other financial institutions in order to process payments and transactions in a fast and easy way. In a recent conversation with Bill Barhydt, the CEO and founder of Abra, Ethan Beard explained that XRP's liquidity surged up to $200 million daily compared to $100,000 a few years ago. Ripple has played a very important role in promoting XRP usage and improving its liquidity in the market.
Hong Kong: Crypto Startup Launches Bitcoin Trading Venue [btcmanager.com]
Crypto.com, a Hong Kong-based cryptocurrency service provider that offers users lending services, crypto payments through Visa debit card services and more, has announced the launch of its cryptocurrency exchange. The firm says the new crypto trading venue will be initially available to only its retail and institutional customers via its mobile app, trading API and web interface, according to a Finance Magnates report on November 14, 2019.
More news and community @Publish0x
---
[광고]