The views and opinions expressed here are solely those of the author and do not necessarily reflect the views of CURATION. Every investment and trading move involves risk. You should conduct your own research when making a decision.
Current Market Price @CryptoCompare
---
Bitcoin (BTC) Price Analysis — Price Surged from $8,500. Are We Out of Correction Territory? [u.today]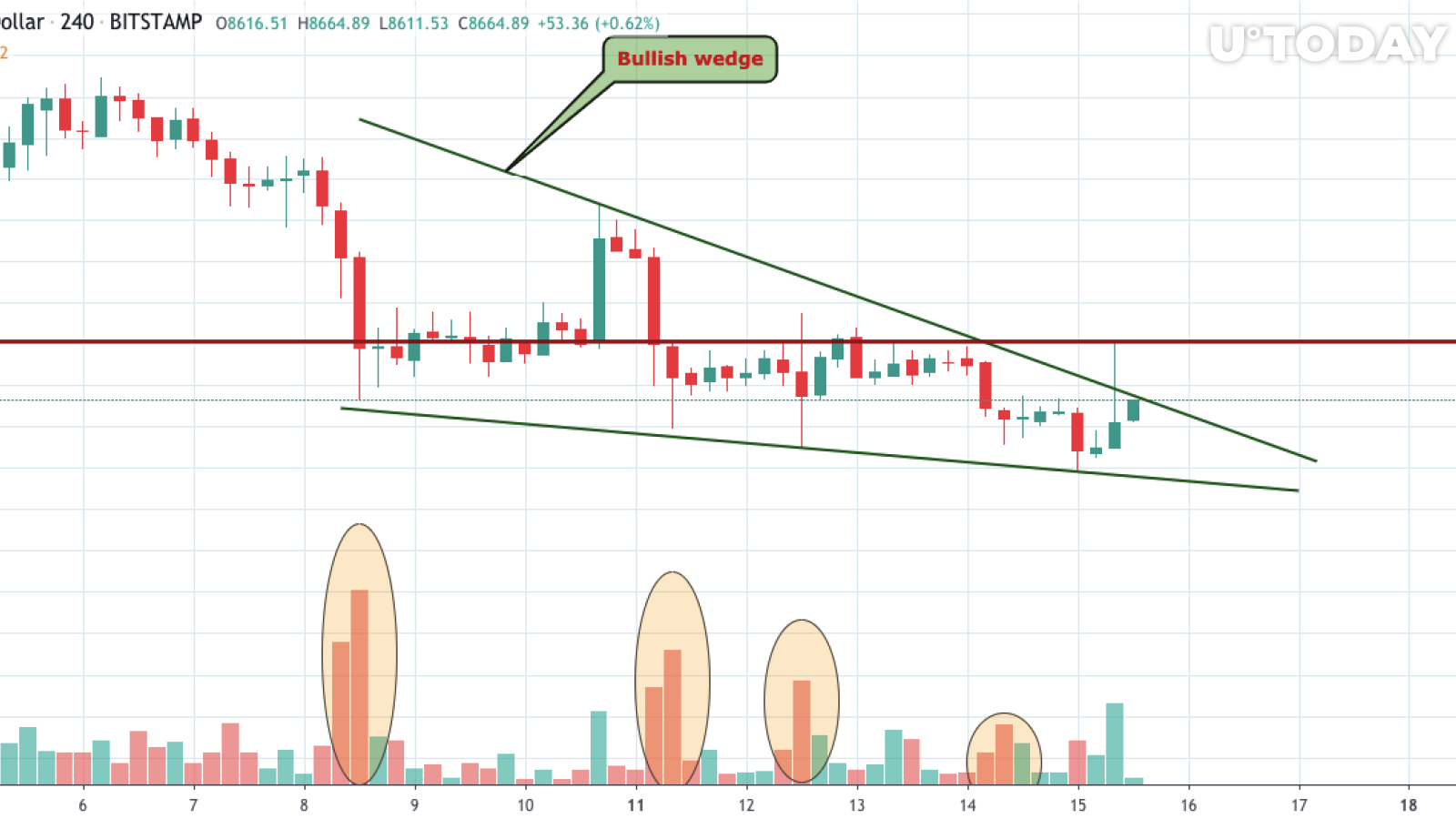 Today, BTC attempted a dramatic breakthrough in the trading corridor, reaching the $8,800 mark in a matter of minutes. However, pressure from sellers rejected the possibility that BTC would push upwards to the $9,000 mark. Within 30 minutes, BTC returned to the $8,600 mark, diminishing all hopes for a swift bullish upswing.
Bitcoin Price Breaks Below $8,500, Are Bears In Complete Control? [newsbtc.com]
This morning, Bitcoin price broke below $8,500 for the first time in November 2019, suggesting that bears are back in control. Bulls had a valiant defense of the low $7,000 range, resulting in a massive short squeeze and the crypto asset's third-largest one-day gain on record, following news that China would support blockchain technology. But any bullish momentum from that powerful impulse move has fizzled out, and the crypto asset has slowly bled from an October high of $10,500, to now below $8,500 in this latest drop.
Binance Researchers Back HODLing As The Best Strategy – Bitcoin Continues Steady Decline [zycrypto.com]
During the year, there were positive flashes that saw the promise of Bitcoin reaching an all-time high before the end of the year. While Bitcoin is the one asset that can never be written off in doing something spectacular, the asset is on track to end the year on a low. With speculators beginning to reconsider their positions in the market, a report by Binance research has backed the best and most effective  Bitcoin strategy to be holding.
Bitcoin [BTC] Price Logs Bearish Shooting Star – How Important is break Above $8,800? [coingape.com]
The bullish resistances, according to Sawcruhteez, are at $8750 and $8950. Nevertheless, the traders seem to be inclined towards longs as Bitcoin continues to hold $8500. About $30 million in short orders were liquidated at BitMEX and BitFinex as the price broke bullish with a $200 rise during the day.
Bitcoin Price Slips as VeChain Moves Higher [cryptobriefing.com]
The cryptocurrency market remains under pressure on Friday, with Bitcoin and the top-10 cryptocurrencies by market capitalization trading in the red. Ethereum, Ripple, Bitcoin Cash, Litecoin, Binance Coin, EOS, Bitcoin SV, and Stellar Lumen are posting losses of between -1.5% to -2.8%. VeChain is the notable outperformer with gains of over 20%. The VET/USD pair is trading at its highest level since July 10th, 2019, and has been advancing since Chinese President Xi Jinping announced Beijing's embracement of blockchain technology.
Dow Spikes on Trade War Hype, But Vital Consumer Data Save the Day [ccn.com]
The Dow, S&P 500, and Nasdaq rose in unison on Friday.
A vital consumer data metric rebounded from the previous month's unexpected contraction.
Trump administration officials expressed confidence that the US and China will sign a trade deal soon.

The Dow forged ahead on Friday, setting the 28,000 mark firmly in its sights as strong consumer data and upbeat trade war forecasts satiated bullish investor appetites.
Following a Hike, Gold Price Drops Sharply Dragging Down Silver [coinspeaker.com]
This week, gold has been enjoying a continuous rally, reaching its record highs. On Thursday, it achieved $1,475.50 per troy ounce. Today, the gold price has dropped sharply, with markets suffering losses globally. The volatility of the precious metal's price results from several factors.
U.S. Federal Judge Rules in Favor Bitcoin IRA in Case Against Kingdom Trust [cointelegraph.com]
A United States federal judge has ordered asset custodian Kingdom Trust to fully restore data access to all affected clients following the unilateral termination of customers' access to their own account information on Bitcoin IRA's website.
Filed on Nov. 12, a court document reveals that South Dakota District Court Federal Judge Karen E. Schreier ruled in favor of Bitcoin IRA in the case against Kingdom Trust, where the latter allegedly breached a referral agreement by terminating customers' access to their account data on Bitcoin IRA's platform without providing prior notice.
Crypto for Cash: China begins Phase 1 of Digital yuan roll-out [ambcrypto.com]
China is rolling out the red carpet for their cryptocurrency. In what could be a classic case of "Find and Replace," China is beginning phase 1 of its implementation of the digital yuan. In July, the People's Bank of China [PBoC], the country's central bank, had revealed its plans for a digital currency backed by their national fiat, the Chinese yuan [CNY].
BITCOIN PRICE AT 'HUGE RISK' OF CRASHING TO $7,300 [bitcoinist.com]
However, those who were hoping that the coin would continue surging throughout the second half of the year were left disappointed. After reaching its peak in July, Bitcoin price has mostly continued to make progressively lower highs. Each new drop took the coin's price by around $1000, sometimes more, sometimes less, but the drops are undeniable when looking at the coin's performance in the last 5 months.
Coinbase Card Adds Support for 5 New Assets and Launches in 10 More Territories [crypto-economy.com]
Coinbase Card, the cryptocurrency exchange's visa debit card, is supporting 5 new crypto assets including XRP and also, expanding its services in 10 more countries, according to two separate tweets posted by Twitter handle of Coinbase Card on November 14. According of first tweet, the company said that user could now spend XRP, Stellar (XLM), Basic Attention Token (BAT), 0x (ZRX) and Augur (REP) using their Coinbase Card. The tweet reads:
Daily: Tolerance for Leverage [coin360.com]
The market has continued to grind lower but interestingly, over the last 7 trading sessions, the lacklustre performance by large caps was matched by the equally lacklustre performance by small caps. Specifically, at the time of writing, large caps are down 4.1% over the course of the last 7 sessions and small caps are down 4.6%. Despite the bearish sentiment, the futures curve remains steep and open interest (OI) is rising, in other words, leveraged names are long. This suggests very choppy price action, with a significant risk in volatility picking up from its suppressed levels.
Google Searches for the Crypto-Powered Brave Browser Surge After Its 1.0 Release [cryptoglobe.com]
The cryptocurrency-powered Brave browser came out of beta this week and as soon as it did mainstream media coverage helped interest in it grow, so much so Google searches for it surged. According to data from Google Trends, shortly after Brave launched its Brave Rewards program for iOS devices and came out of beta, Google's trends index, which ranges from 0 to 100, surged from around 33 to peak at 100 earlier today.
'Poop' Crypto on Ethereum Blockchain Targets Homelessness Crisis in California [dailyhodl.com]
Far from the glittering image of celebrities walking the red carpet, a Los Angeles resident recently had a bucket of hot liquid diarrhea poured over her head as she was walking not too far away from the iconic Hollywood Walk of Fame. The perpetrator was a homeless man diagnosed with schizophrenia and other psychotic disorders. Four hundred miles north in San Francisco, the home of more billionaires per capita than anywhere else in the world, the homeless population is soaring, with feces, urine, vomit, needles and mental illness sprawling across public spaces and spilling into private vestibules. In 2019, the number of people living on the streets in San Francisco and in cars and shelters is up 30% since 2017 to 9,784.
More news and community @Publish0x
---
[광고]