The views and opinions expressed here are solely those of the author and do not necessarily reflect the views of CURATION. Every investment and trading move involves risk. You should conduct your own research when making a decision.
Current Market Price @CryptoCompare
---
Bitcoin Price May Hit $5.5K in 2020 to 'Wear Out Bulls' — Peter Brandt [cointelegraph.com]
What happens next, he argued, could continue that trend — and make it last longer than the general consensus suggests. "My target of $5,500 is not far below today's low. But I think the surprise might be in the duration and nature of market," he wrote. Brandt continued:
"I am thinking about a low in July 2020. That will wear out bulls quicker than a price correction."
Bull Run In Sight? Crypto Analyst Hints That Current Trends Are A Repetition Of 2017 Events [zycrypto.com]
The bitcoin and cryptocurrency market at large has been in a turmoil of recent. With bitcoin on a freefall since it attained its highest point of about $13K towards the end of June 2019, it doesn't seem like there'll be a positive turnaround anytime soon. However, a famous crypto trader and analyst, Crypto Rand, thinks of the situation in a different light. In his opinion, current events are a repetition of what happened mid-2017, and by the end of the year, bitcoin traded at its highest point ever.
Bitcoin takes a beating; primed for a drop below $7,000 [ambcrypto.com]
The imposition of a further price drop can be concluded from the pattern formed in the aforementioned chart. Since the close of October, when Bitcoin rose from $7,500 to $10,500, a falling wedge has been forming. The pattern further solidified with every consistent drop from the October high. Lower-highs can be observed at – $9,300, $9,000, $8,500 and $8,100. Lower-lows were seen at $7,300, $7,100 and the wick of the November 22 candle – at $6,700.
Bitcoin's Fifth Largest Trading Volume Day Recorded with BTC Price Decline [u.today]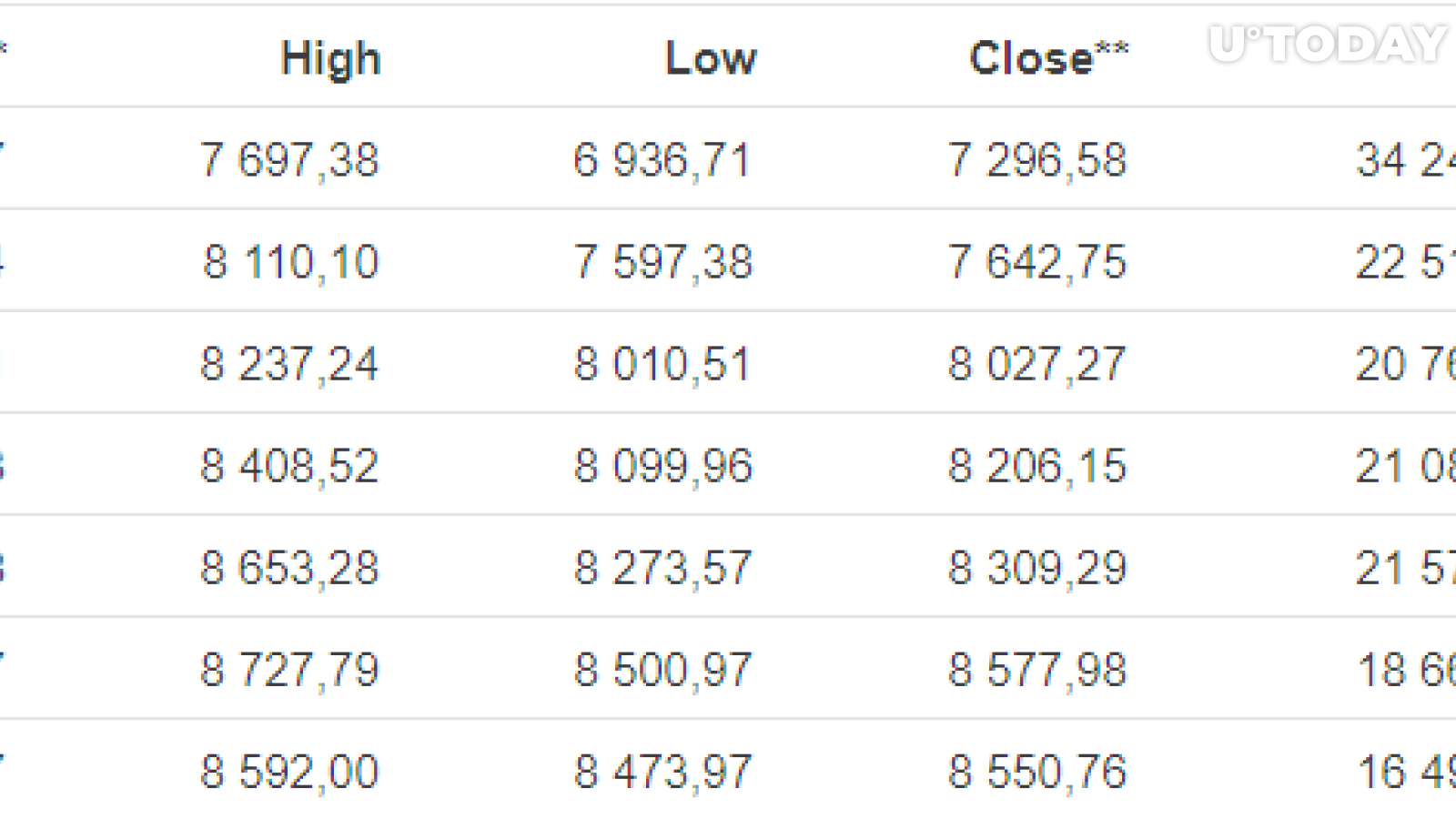 Yesterday's rapid price drop resulted in multiple Bitcoin jokes, including one as a Black Friday sale. The price of the cryptocurrency even dipped below $6,900 USD on some exchanges. This led to a call for widespread liquidation, as the 24-hour trading volume from yesterday totaled more than $34.24 billion USD.
Bitcoin Price: Bullish Macro Trend Intact — But $6,800 Will Be Key [cryptopost.com]
Through this, the falling wedge structure wasn't confirmed, and the price fell below the support zone (yellow area). After that, a small rejection was seen before the price started to fall through to the next critical support zone. This zone is marked in the green area and can also be defined through the trendline (blue line). However, daily timeframes show that the price has retraced to the golden ratio (0.618-0.65 Fibonacci level) of the whole upwards move during the first half of 2019 ($3,000 to $14,000).
Bitcoin Analysis: A reclaim of $7,300 Will Trigger Bulls [coingape.com]
It was a crypto bloodbath. Double digit losses posted on a week-to-date basis coupled by gloomy predictions, Bitcoin (BTC) is suppressed. The path of least resistance in the short-term could be southwards but if bulls manage to clear the $7,300-$7,500 resistance zone, previous support, bulls may flow back. This is the opinion of one influential crypto analyst, LomahCrypto.
BAKKT BITCOIN FUTURES RECORD: 2728 CONTRACTS TRADED AMID BTC CRASH [bitcoinist.com]
The heightened Bakkt futures activity happened on a day when the Bitcoin market sentiment fell rapidly to "extreme fear". However, the slide did not look like a capitulation from futures traders. BTC trading volumes shot up in a bull-and-bear fight, in which prices shot up from below $7,000 to above $7,300 within hours. On Saturday, volumes remained unusually high for a weekend, at above $33 billion in 24 hours.
Chinese Central Bank Plans to Nip Young Crypto Businesses 'In the Bud' [coindesk.com]
China's central bank has launched a new campaign to crack down on crypto trading in Shanghai on Friday, after speculation about softer regulations surged in the sector. The official announcement came one week after CoinDesk reported a leaked notice that detailed an inspection plan for crypto-trading operations in each district of Shanghai.
Crypto Black Friday Blowout Comes Early, But Who's Buying ETH, XRP, and LTC? [ccn.com]
According to the Crypto Fear and Greed Index (CFGI), the overall market sentiment turned into "extreme fear" as investors expect a further downturn. However, historical data reveals that every time the CFGI goes into "extreme fear," a buying opportunity is presented. The following technical analysis will evaluate whether Ethereum, XRP, and Litecoin are bound for a deeper retracement or a bullish impulse.
Crypto Update: Coins Hit Six-Month Lows As Sell-Off Accelerates [hacked.com]
The cryptocurrency segment is experiencing a mini-panic event today, as the current downswing entered an accelerating phase. Volatility skyrocketed as the majors approached their prior lows, and the top coins got hit hard for the second day in a row. A lot of key support levels fell easily today, and while the market stabilized, the technical damage is significant, and bulls need a quick recovery rally above the prior lows to keep their hopes alive.
CZ: Binance Fake News Is The Reason For Yesterday's Bitcoin Price Crash To $6700 [cryptopotato.com]
This quickly caused a storm within the cryptocurrency community, and it became one of the most widely-discussed topics over the past two days, especially following the recent Bitcoin price action. Zhao has stated numerous times that the erroneous reporting has hurt Binance's reputation and has already expressed his intentions to take The Block to court. Moreover, he also said that it has caused damage to Bitcoin's price. Indeed, Bitcoin crashed yesterday, starting the day above $8,000 and recording a low of nearly $6,700. This marked a daily decline of around 17%. Since then, the price has recovered a bit, and it currently trades at $7180.
Will the Bitcoin Price Plunge Further? Analysts Target $6,000 [newsbtc.com]
It has now dropped below $200 billion which puts digital assets back in crypto winter territory. According to Tradingview.com BTC continued its downward slide and did not stop at $7k. Support was smashed again and the king of crypto fell into dangerous ground with a wick down to $6,800. This is its lowest level since mid-May when things were all in the opposite direction.
How Can Blockchain and Cryptocurrency Improve the Gambling Industry? [btcmanager.com]
Integrating blockchain technology and cryptocurrencies may give the online gambling industry a solution for dealing with governmental restrictions and other roadblocks. So, what is a blockchain? A blockchain is a digital ledger containing a growing list of records. Each record is a block, and they are linked using cryptographic hashes. The blockchains are often stored across a distributed network of users, creating a public database. Each time someone completes an action that adds more data to the blockchain, the entire record gets updated among all users in the network.
PlanB: $1,000,000 BTC Prediction on Track Despite Crypto 'Panic' – Bitcoin, XRP, Ethereum Newsflash [dailyhodl.com]
From a response to "panic" over Bitcoin's big move to the downside to an update on Ethereum 2.0, here's a look at some of the stories breaking in the world of crypto. A prominent crypto analyst who burst onto the scene after adapting the stock-to-flow ratio to Bitcoin says this week's steep drop in the price of BTC hasn't changed his outlook. Stock-to-flow is traditionally used to forecast the future value of precious metals. It tracks the circulating supply of an asset against the amount of new supply hitting the market.
More news and community @Publish0x
---
[광고]