The views and opinions expressed here are solely those of the author and do not necessarily reflect the views of CURATION. Every investment and trading move involves risk. You should conduct your own research when making a decision.
---
Bitcoin (BTC) Price Prediction: Conquering the $7,500 Mark? [u.today]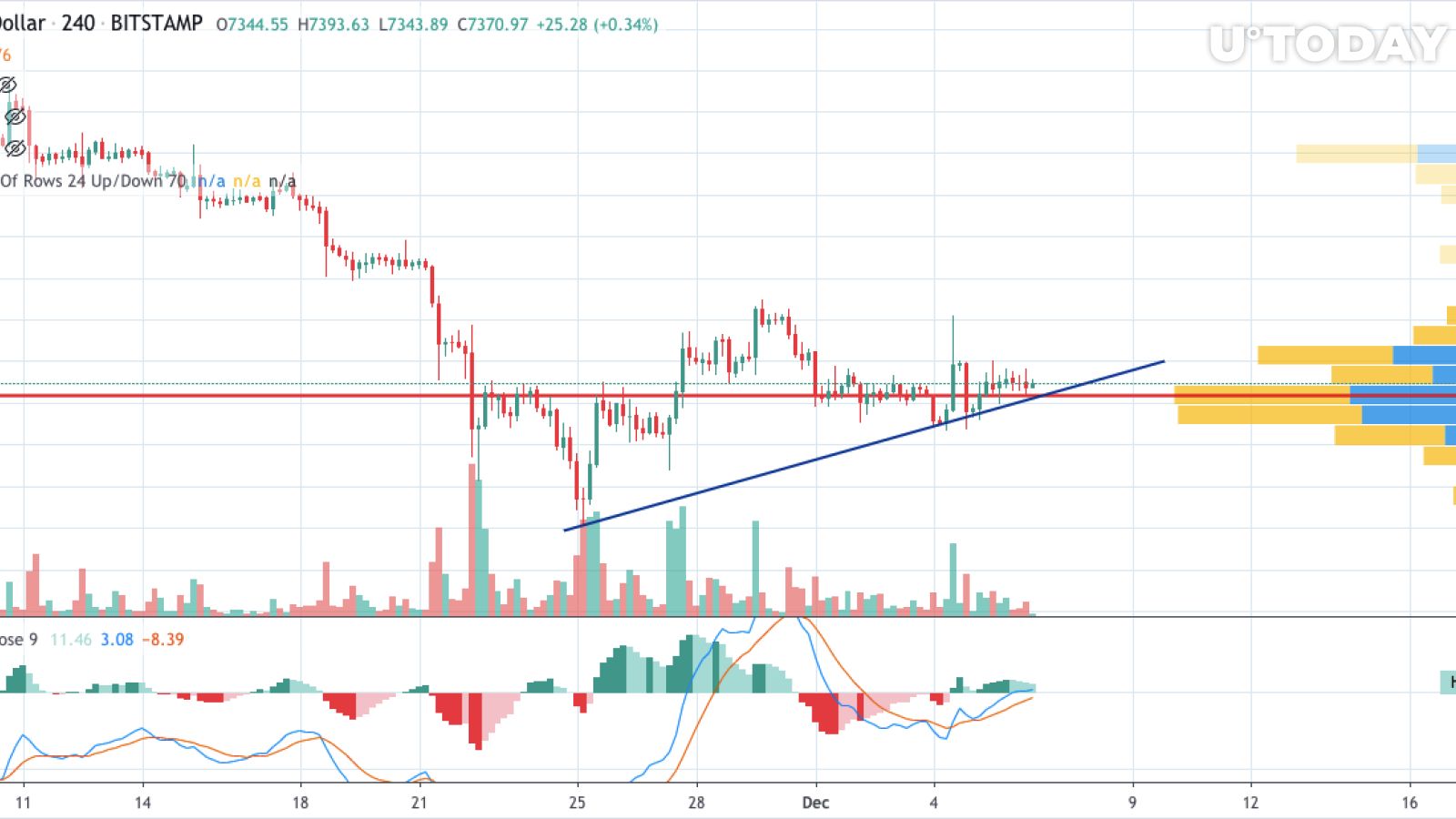 Looking at the daily time frame, the current growth is modest, but can be considered the starting point of a continuing decline. The 200-Day Moving Average (MA) is at its local peak and is about to move down simultaneously with the 100-Day MA and the 50-Day MA. A similar picture was painted in 2017 when the decline stopped at $3,000. Fast forward to today, the first point on the way to a more profound decrease is $7,000, which might be achieved through the end of December 2019.
BTC Bulls and Bears Rivalry: Either Price goes up to $8k or goes down to $6k mark [tokenhell.com]
The price value of Bitcoin may see a massive move in upcoming days as the rivalry between Bitcoin bulls and bears still continues.
The world's leading cryptocurrency is trading in the $7000 zone. From this level, either the price of the coin goes up crossing the $7500 level or goes down touching the $6k mark. This means that the bitcoin price is still standing at the same price level.
Prominent Analyst: Bitcoin Likely on Cusp of Making a Major Price Movement [newsbtc.com]
The coming few days and weeks may give analysts and investors alike significant insight into where Bitcoin and the aggregated crypto markets will head as 2020 fast approaches.
Recent Data About Bitcoin Activity Spells Worrisome Signs For Bitcoin [coingape.com]
The LongHash article suggest's that this decline in Bitcoin's active addresses could mean two different things depending on how you perceive Bitcoin. If Bitcoin is looked at as a form of payment, then the decline is worrisome as it means that people are not using it for payments.
However, if Bitcoin is considered a store of value, then the fall in activity on the Bitcoin network is as worrisome as it could simply mean that people are HODLing the coin and waiting for its value to go up.
Will the Longest Bull Market in U.S. History Lead to Economic Ruin? History Says Yes [ccn.com]
When the U.S. stock market saw extended bull markets throughout history, it was met with intense pullbacks.
Data indicates that equities are currently overvalued.
A steep downturn can be avoided if strong numbers pertaining to the economy continue to roll out.

The U.S. stock market is officially in the longest bull market in history. The last time there was a decade-long rally, a tragic economic downturn followed.
Bitcoin more popular than Netflix stock among millennials; GBTC one of their top 5 equity holdings [theblockcrypto.com]
The report, published Wednesday, showed that millennials (currently aged between 25-39) have a higher holding in Grayscale's Bitcoin Trust (GBTC) investment product at 1.84% than Netflix stock at 1.58%. Schwab publishes this report every quarter and collects data from nearly 142,000 retirement plan participants who currently have balances between $5,000 and $10 million in their Schwab Personal Choice Retirement Account.
BITCOIN STILL KING: TRADING DOMINANCE ON BINANCE REMAINS ABOVE 40% [bitcoinist.com]
The bitcoin and crypto exchange launched its second perpetual contract for Ethereum at the end of November and offers 50x leverage on it. Margin trading options were also expanded to include IOTA and Tezos.
The report concluded that it was a negative month for crypto overall with the exchange hack, China crackdown, and associated media FUD.
US Treasury Secretary Sees 'No Need' for Digital Currency, Crypto Critic Chairs US Committee, EU Pushes Back Against Stablecoins [dailyhodl.com]
US Treasury Secretary Steven Mnuchin, who has called Bitcoin and cryptocurriences a threat to national security, and Federal Reserve Chairman Jerome Powell, who has stated that the Fed is keeping a close eye on the developments of central bank digital currencies, say there's no need for a digital US dollar.
Despite revelations that central bankers in France and China are in active pursuit of building a digital currency to expedite cross-border payments and to leverage the advantages of blockchain technology, Mnuchin is resolute.
As Bitcoin active addresses hit low, fear of dipping BTC interest increases [ambcrypto.com]
Since the first week of January 2018, the search trend for Bitcoin had drastically decreased; in the first week of September 2019, interest in Bitcoin improved almost twice as much from the peak in January 2018. The surge was probably due to the turbulent price activity displayed by Bitcoin but in three weeks, the interest dropped by 9-fold again.
The interest in Bitcoin continued to exhibit similar levels till the start of December with no prominent spikes.
Brave Web Browser Registers New Record With 10 Million Monthly Active Users [coinspace.com]
At the same time, there are several companies and firms that became verified content creators. Some of these firms include YouTube, Twitter, Twitch, Vimeo, and GitHub, among others. The total number of Brave Verified creators has also grown to almost 340,000 and they are now able to receive BAT from their audiences. At the beginning of 2019, the number of Brave Verified content creators was just 28,000.
Venture Capitalists Have Invested Over $200M in Stablecoins [bitcoin.com]
With new stable and "stable-ish" coins set to launch, Libra in the works, and 69% of central banks working on CBDCs, the stage is set for an impending global currency war. Instead of pitting fiat currencies against the U.S. dollar, it will see digital tokens – some asset-backed, others collateralized, and others algorithmically controlled – compete for supremacy. Their compliant and regulated nature, however, means that whatever happens, they will not be capable of supplanting bitcoin.
Coinbase's Visa Debit Card Adds Support for Stablecoin DAI [cryptoglobe.com]
Today's announcement comes roughly three weeks after Coinbase said (on 14 November 2019) that Coinbase Card had expanded to 10 additional countries — Bulgaria, Croatia, Denmark, Hungary, Iceland, Liechtenstein, Norway, Poland, Romania, and Sweden — and added support for five more cryptoassets (XRP, Basic Attention Token, Augur 0x, and Stellar).
US SEC Approves BTC Futures Fund to Offer Shares to Institutional Investors [cointelegraph.com]
NYDIG is allowed to operate as a crypto custodian for five cryptocurrencies; Bitcoin, Bitcoin Cash (BCH), Ethereum (ETH), XRP and Litecoin (LTC). Earlier in December, California-based financial firm SoFi acquired a BitLicense from the NYDFS. The firm is now authorized to support a total of six digital assets including BTC, ETH, BCH, Ethereum Classic (ETC), LTC and Stellar (XLM).
Four Insights on Crypto Liquidity From Binance US and FTX [coindesk.com]
To get at the heart of this problem, CoinDesk Research's webinar series brought in the chief executives of two young crypto exchanges. Catherine Coley is CEO of Binance US, the US arm of one of the largest crypto spot exchanges by liquidity and volume. Sam Bankman-Fried is CEO of Alameda Research, a quantitative trading firm based in Hong Kong that earlier this year started up FTX, a crypto derivatives exchange. Both exchanges have shown some fast early growth and attracted attention from crypto pundits and traders.
More news and community @Publish0x
---
[광고]