The views and opinions expressed here are solely those of the author and do not necessarily reflect the views of CURATION. Every investment and trading move involves risk. You should conduct your own research when making a decision.
---
Price Analysis 09/12: BTC, ETH, XRP, BCH, LTC, EOS, BNB, BSV, XLM, XTZ [cointelegraph.com]
Though the bulls have failed to scale and sustain above the 20-day EMA for the past four days, the positive sign is that they have not given up much ground. We expect another attempt by the buyers to push the price above the 20-day EMA and the overhead resistance of $7,856.76. If successful, a rally to the downtrend line is likely. This is a major resistance but if crossed, it will signal the start of a new uptrend. Therefore, we retain the buy suggested in an earlier analysis.
Bitcoin Charts First Weekly Golden Cross in 3.5 Years [coindesk.com]
Bitcoin's weekly chart is reporting a bullish golden cross of the 50- and 100-period moving averages. The widely followed, but lagging, indicator may fail to attract buyers as broader market conditions are currently bearish.
A UTC close above $7,870 is needed to confirm a short-term bullish reversal, according to the daily chart.
The cryptocurrency risks falling to key support at $7,087, having faced rejection at bearish weekly average resistance during the Asian trading hours.
Crypto Price Action Sports Uncanny Resemblance to Bitcoin Bear Market Bottom [newsbtc.com]
In fact, the current price action across crypto markets very closely resembles the price action at Bitcoin's bear market bottom. According to one crypto trader, the resemblance is "uncanny" and makes "sense" that the first major correction after Bitcoin's first major move up would result in an accumulation period that resembled the initial phase.
Bitcoin Price Analysis: BTC/USD Deadly Bearish Pattern Targets $6,000 [coingape.com]
Bitcoin has given up the support at $7,500 once again. The previous time BTC gave up the same support, the price plunged close to $7,000. The recovery on Friday last week failed to yield towards $8,000 forming a high slightly above $7,650. The retreat from last week's high left $7,700 untested. However, Bitcoin appears to be holding ground above $7,400 short term support.
Bakkt Launches CFTC-Regulated Bitcoin Options Contracts and Cash-Settled Futures [cryptoglobe.com]
As CryptoGlobe reported, Malta-based crypto exchange OKEx has also announced it's going to offer its traders options trading later this month on December 27, with a simulation starting on December 12.
It's worth noting Bakkt is also looking to launch a crypto "consumer app" next year, with Starbucks being its first partner on it. The app will reportedly help its users buy goods and services using bitcoin.
Bitcoin (BTC) Price Prediction and Analysis in December 2019 [coindoo.com]
The bear trend moved Bitcoin from the $10,000-$9,000 support levels to $8,000-$7,000 values. Currently, Bitcoin is struggling to maintain itself above the $7,200 mark…… Of course, the internet is full of Bitcoin price predictions; some more outlandish, others more plausible. We decided not to include those extremely bullish Bitcoin forecasts (e.g., Bitcoin could reach $1 million), as seeing the current price evolution of BTC, this is highly unlikely to happen.
5 Crypto Trends that Appeared in 2019 [cryptovest.com]
The crypto space evolved in 2019, moving a bit beyond the immediate hype of price action. While some trends and approaches failed, other developments came into the spotlight, offering new types of earnings opportunities…… For almost all crypto trends, 2020 may see even stricter regulations. But financial innovation is happening in the sector, potentially building new cases for digital assets.
Bitcoin Price Continues to Follow Bearish Pattern: Bloomberg [u.today]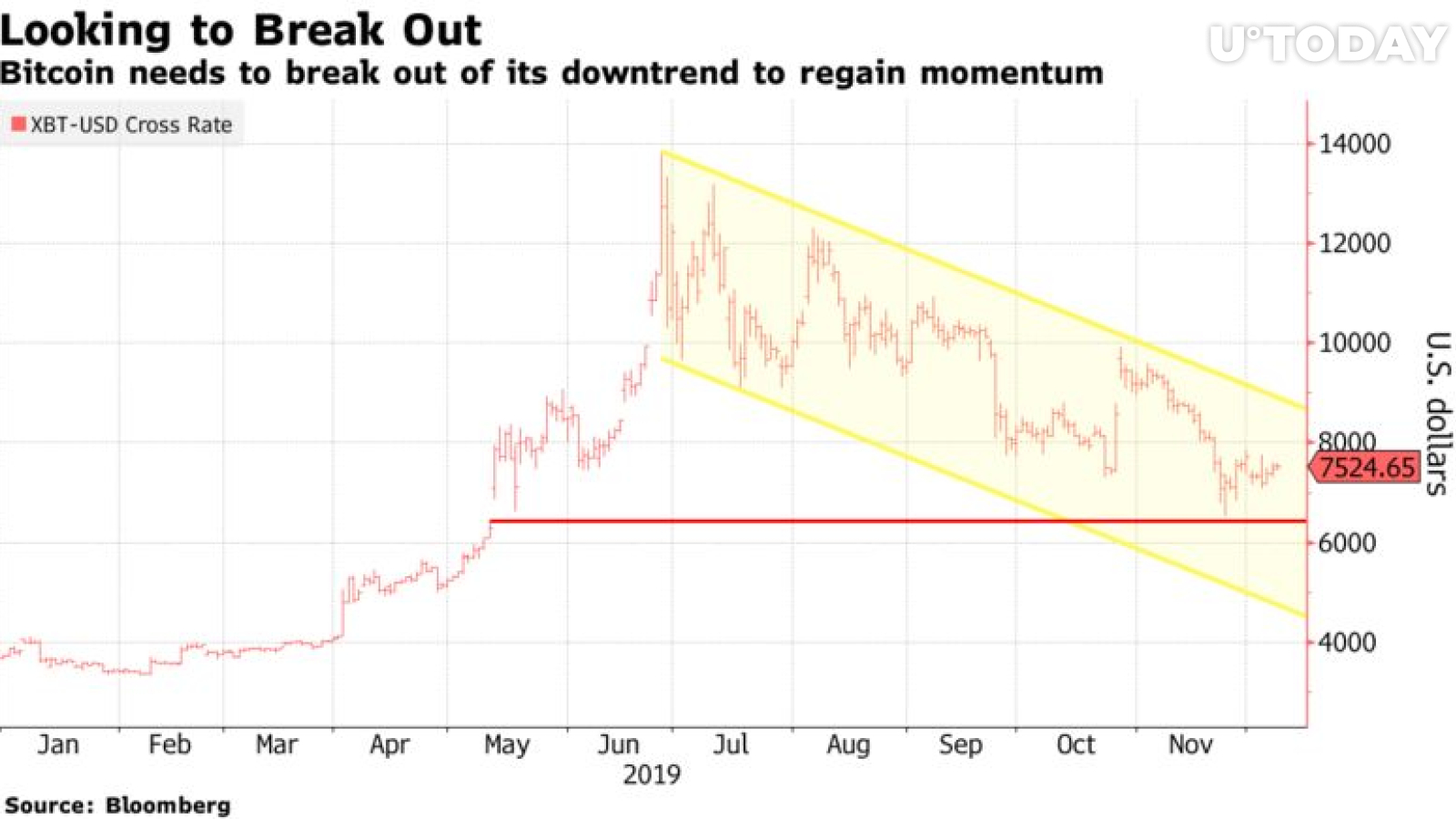 On a positive note, Bitcoin has recently formed its first golden cross in its three and a half years. However, technical analyst Omkar Godbole believes that this lagging indicator will fail to attract buyers due to predominantly bearish sentiment.
The BTC price would need to witness a breakout from the falling wedge channel to the upside in order to continue the rally that commenced in April.
5 Reasons Why the Dow Slipped Below 28,000 Today [ccn.com]
The Dow fell about a quarter of a percent today, forcing the index below 28,000.
The DJIA trailed the S&P 500 and Nasdaq, but the stock market was gloomy all around.
Weakness in several core stocks contributed to the Dow's underperformance.

The Dow Jones Industrial Average turned south on Monday, slipping below the 28,000 level due to weakness in several core stocks.

Here are five reasons why the Dow struggled – and failed – to sustain the momentum from last Friday's massive rally.
Analysts Claim Indirect Investment in Cryptocurrency and Blockchain helps Manage Massive Risks [btcmanager.com]
When people call Bitcoin a store of value, traditional proponents are quick to use the volatility card to write off this narrative. However, a quick look at the long term chart would evidence the claim that Bitcoin is a wealth creator – not just a store of value – over long periods. Keeping that in mind, any investment in cryptocurrency should be made with the knowledge that it is an extremely risky asset that is likely to appreciate over biennial cycles at minimum.
IRS Now Requires Tax Filers to Disclose Crypto Activities [thebitcoinnews.com]
The U.S. Internal Revenue Service (IRS) has finalized and put in use a new tax form that requires crypto owners to declare whether they received, bought, sold, exchanged, or acquired any cryptocurrencies in 2019. Tax experts are frustrated at the vagueness of the tax agency, with some questioning whether the answers would increase the chances of being audited by the IRS.
Cryptocurrency Exchange Huobi US To Cease Operations On December 15 [usethebitcoin.com]
The recognized cryptocurrency exchange Huobi US (HBUS) will be shutting down its trading activities on December 15. This is according to a recent notice released by the company in which they explain that they have to adapt their business strategy.
Ripple Director of Product Launches XRP Entertainment Marketplace for Music [dailyhodl.com]
The project is currently in beta for the uploading/publishing side of the marketplace, which includes a wallet and the ability to manage music.
"Once we've gotten enough music uploaded and finished building the front end marketplace, we'll turn on the purchasing side of xSongs.This will be the front end to allow anyone to buy songs."
That'll likely happen in a few weeks, after the publishing build-up phase concludes, according to the Ripple executive.
Ethereum Transactions Plunge [trustnodes.com]
In ethereum however it's not clear whether softforks can be done. There were suggestions of potential attack vectors if eth does softforks in 2016, but how much of that was maybe a bit political and how much was technical it's not too clear, especially as where it concerns maintenance upgrades, like the one on Sunday, you'd think there isn't much reason to not do it with a softfork if it can be done.
More news and community @Publish0x
---
[광고]