The views and opinions expressed here are solely those of the author and do not necessarily reflect the views of CURATION. Every investment and trading move involves risk. You should conduct your own research when making a decision.
---
Bitcoin Price Diary: Long BTC and Profitable on Many Altcoin Positions [cointelegraph.com]
Trading altcoins continues to be one of the most profitable strategies in the crypto market. The highlight of this week was the MATIC (MATIC) pump and subsequent dump, which I was lucky enough to time perfectly, securing a 60% profit near the all-time high. I closed a number of positions in profit, and am still trading EtherParty (FUEL), (IOST), Elrond (ERD), Chainlink (LINK), Zilliqa (ZIL), Verge (XVG) and FunFair (FUN).
Bitcoin's Reaction to This Critical Level Could Determine How It Trends In 2020 [newsbtc.com]
"1D $BTC: @bbands. only this tight a few times over the past year. currently w/bearish forecast. price > 7300 would be above 20SMA which would flip sentiment bull. eventual resolution of all moves of this caliber have resulted in initial 20%+ price swing," he noted while referencing a chart showing that a big movement could be imminent.
December Nightmare: Bitcoin Price Plunges Below $7,000 [cryptopotato.com]
After trading in a tight range between $7,300 and $7,150 for several days, Bitcoin might be on the move again, heading south this time. The price of the largest cryptocurrency dropped to $6,994 on the largest margin trading exchange, BitMEX. Bitcoin managed to recover slightly and is currently trading at around $7,050.
Bitcoin's grim future indicates a retest of $6,515 and perhaps lower[ambcrypto.com]
Multiple outcomes indicate a converging bearish case for Bitcoin in the coming week.
The 4-hour chart shows a dip below the $7,000 region and a retest of November 25 low, $6,515.
Further bearish momentum could slide Bitcoin to $6,200, and possibly to $5,920.

As Bitcoin's price lugs in the $7,000 region for the 3rd week in a row, the U.S. and other European miners are taking hits due to mining unprofitability. A few days before Bitcoin collapsed from the $8,000 region, a total of ~$17 million BTC moved out of miners' wallet, indicating miner capitulation. Since its drop to the $6,515 on November 25, the price has not revived completely.
BTC, EOS, TRX Price Prediction: Signals of Bullish Continuation on the Market [u.today]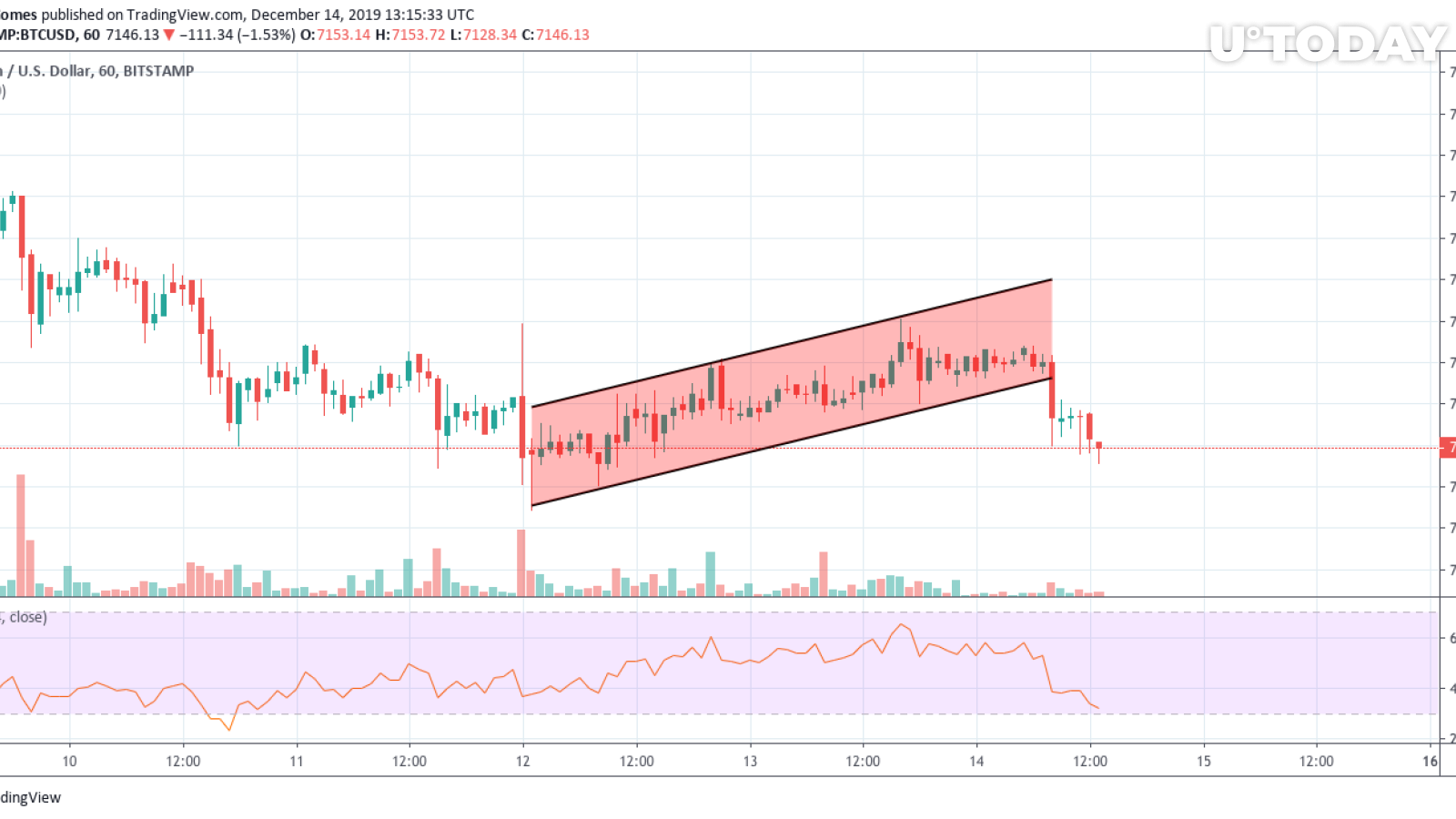 The cryptocurrency market is finishing the week with uncertainty. While the local bullish trend is coming down, the bears have not seized on the initiative. The 1H time frame shows a breakdown of the ascending channel's lower boundary, after which the price is likely to visit a three-week low of $7,072 and then the psychological level of $7,000.
Bitcoin (BTC) Longs on Bitfinex at 21-Month Highs, Bulls Incoming? [coingape.com]
Highlighted, the reading on the Fear and Greed index is at 22, and that shows how apprehensive traders are. As fear prevents the free flow of funds in the sphere, forcing prices lower, risk-off traders could be aggressively accumulating and buying for cheap.
For now, traders are patient. Until when there is a strong uptick of trading volumes, lifting prices above $7,900-$8,000 resistance zone, BTC remains in a firm down-trend.
The number of billionaires buying Bitcoins is growing [thebitcoinnews.com]
Many expressed their delight at the comments, both that he bought BTC and used it to advertise to almost 2 million people. An interesting comment came from Tuur Demeester, founder of the Bitcoin Alpha hedge fund Adamant Capital. He raised the Bitcoin ceiling and said that less than 2 million people could ever own more than 10 BTC given the BTC supply ceiling, and that consoles are now one of those lucky ones.
US Central Bank to Print 3x Bitcoin Market Cap In Weeks [zycrypto.com]
This is something that cryptocurrencies do not have, the volatility in the crypto market is hundreds of times higher and it's definitely a problem that needs to be solved. Fiat currencies are certainly replaceable, Spain, for instance, was using the 'peseta' before transitioning into Euros. Similarly, other countries have changed their fiat currencies many times so it's possible that one day, countries will shift towards cryptocurrencies.
Lessons From the First Digital Gold Boom [coindesk.com]
This seems revolutionary, but Libra is actually a revamped version of a much older payments model. In 1996, Douglas Jackson, an oncologist and fan of the gold standard, founded a payments system called e-gold. Backed one-to-one by reserves of the yellow metal, the e-gold system allowed users all around the world to make instant private electronic payments.
Unfortunately, e-gold ran into problems with regulators. In 2009, just as bitcoin was taking off, Jackson had to close shop. It remains to be seen if Libra – e-gold 2.0 – will be able to navigate the difficulties its predecessor floundered on many years ago.
Tania Amador Foils Crypto Scammer Through Some Very Simple Steps [livebitcoinnews.com]
Customer trust is important to Ring, and we take the security of our devices seriously. While we are still investigating this issue and are taking appropriate steps to protect our devices based on our investigation, we can confirm this incident is in no way related to a breach or compromise of Ring's security. As a precaution, we highly and openly encourage all Ring users to enable two-factor authentication on their Ring accounts, add shared users (instead of sharing login credentials), use strong passwords and regularly change those passwords.
Bitcoin Set to Shatter $100K in 2020, Says Ross Ulbricht – BTC, Ripple, XRP, Litecoin Updates [dailyhodl.com]
Venture capitalist and Bitcoin bull Tim Draper recently made headlines by calling for his release.
"I get that he's got to be an example, and he stepped over the line. But he's been in jail for a while. Get him out. I cry when my cat goes into a cage, it tears my heart out when these prisoners go into cages."
More news and community @Publish0x
---
[광고]