The views and opinions expressed here are solely those of the author and do not necessarily reflect the views of CURATION. Every investment and trading move involves risk. You should conduct your own research when making a decision.
---
Bitcoin Set to Enter Disbelief Phase — Should Hodlers Prep for $2.8K? [cointelegraph.com]
Bitcoin price (BTC) performed as expected over the past week as 8% was shaved off its price of $7,571.80 between Dec. 8 and Dec. 14. Does this mean the digital asset is due for a reversal? As much as Bitcoin holders and I want this, one has to look at the facts. Currently, Bitcoin has a distinct lack of bullish indicators that offer any hope of a short term reversal and even John Bollinger, the founder of the Bollinger Bands indicator tweeted out this somewhat cryptic tweet on Dec. 13.
Bitcoin's "Supertrend" Flips Red as Price Fails to Surmount Low-$7,000s [newsbtc.com]
"From a volume perspective, there is nothing to me that screams "THIS IS THE BOTTOM." For both markdowns and markups we typically expect to see "climactic" volume," Shiller wrote, trying to accentuate that there are no concrete signs the bottom is in for the Bitcoin market.
Bitcoin (BTC) Price Still Follows Stock-to-Flow Model Despite 48 Percent Correction [u.today]
Commodities with a high STF ratio (the existing stockpile divided by the annual production) are preferred by investors because they are gradually becoming more scarce. For example, gold, which boasts a market cap of $8.4 trln, has a ratio of 62 while silver only has 22 due to its higher supply growth (1.6 percent and 4.5 percent respectively).
BTC's STF ratio is currently at 25 but it will increase after the next halvening in May 2020. The miner reward for each block will be reduced from 12.5 BTC to just 6.25 BTC. It is expected that the ratio will reach 50, which would put "digital gold" very close to the yellow metal.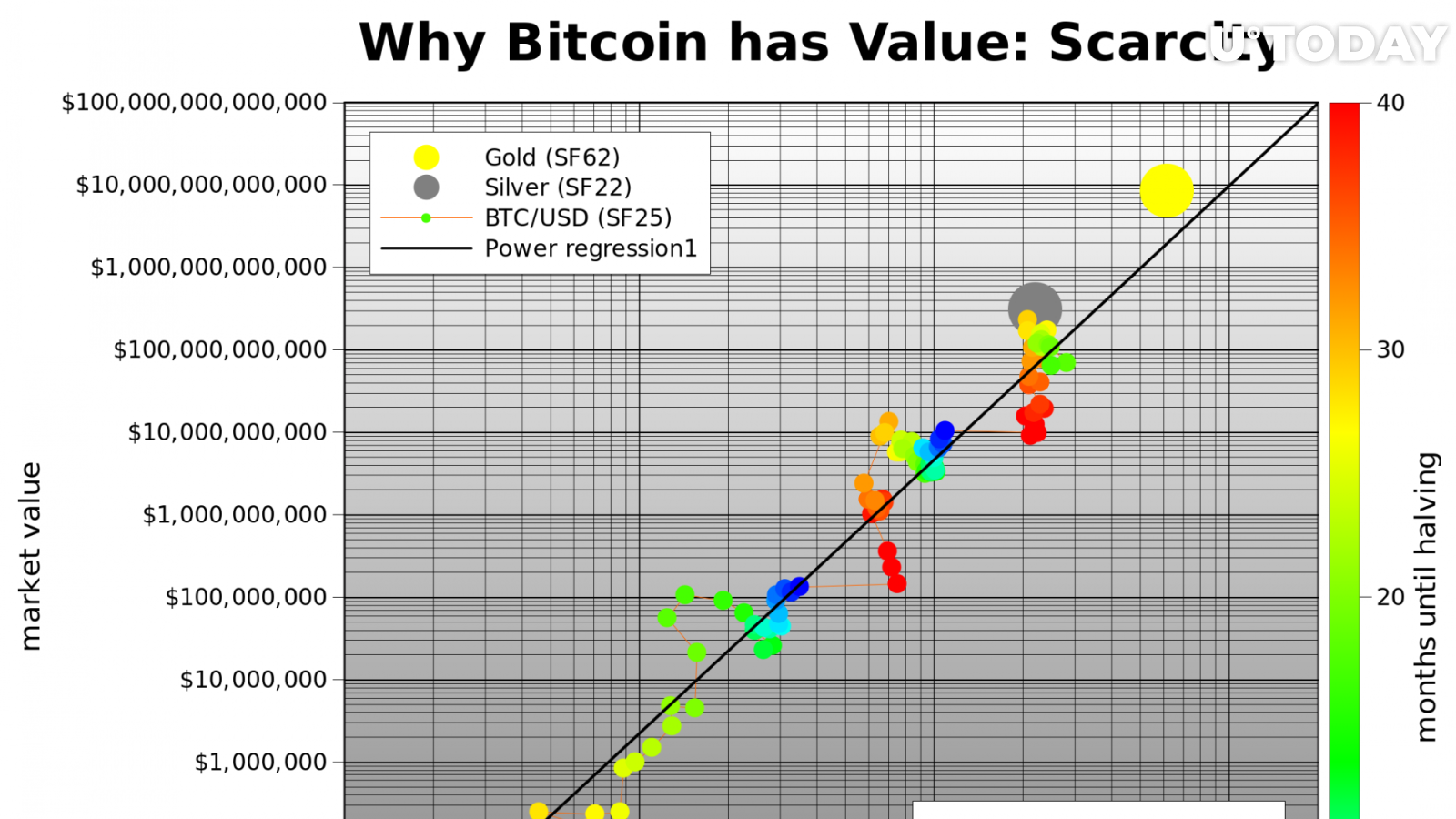 Bitcoin Dump Cycle Looming, Warns Crypto Analyst – BTC, Ethereum, XRP, Ripple, Cardano Newsflash [dailyhodl.com]
The analyst, known in the industry as Rampage, tells his 31,000 followers on Twitter that BTC appears to be caught in a cycle that's happened a couple of times in the past.
"Bitcoin is a repeating history lesson immediately forgotten by pumps. Dump cycles matter."
The pattern begins with a parabolic rally. Soon after, BTC retreats and enters a period of consolidation. Then, a second rally to a lower high begins, followed by a long-term collapse and bear market.
Bitcoin: 5 Arrogant Myths That Just Won't Die (But Should!) [ccn.com]
Bitcoin was born in myth and continues to dwell there.
It's too early to know if BTC will end up a hero or a villain.
Bitcoin has a story to tell, but this isn't a fantasy novel.

Bitcoin's creation story borders on the mythological. A life-changing technology created by the pseudonymous, anonymous genius Satoshi Nakamoto, who then vanished out of sight. With that in mind, is it any surprise that much of the bitcoin hopium continues to be fuelled by well-meaning fantasy? Here are five Bitcoin myths that just won't die…
Bitcoin (BTC) is Like Amazon of 2001, it's Grossly Undervalued [coingape.com]
Bitcoin, even as central backed digital currencies sprout, has the backing of the community and has evolved to be not only a medium of exchange but a store of value. A shield during economic crises or political turbulence, the network is censorship resistant yet transparent enough to the joy of law enforcement.
Federal Reserve Ramping Up Repo Operations In Early 2020 Will Prove A Strong Case For B [zycrypto.com]
Not to mention the fact that bitcoin has appreciated by more than 4,000 percent within the past five years and in the last one year it has soared by nearly 130 percent. This, according to crypto pundit John McAfee, gives bitcoin an edge over fiat. He tweeted yesterday, "In 5 years BTC is up 4082.52%, in last 52 weeks its up 129.10%, in the last month it's up 10.33% & last 5 days it's up 1.71%. Fuck FIAT." Indeed, repo operations will likely lead to further distrust of the traditional financial system and intensify the demand for bitcoin.
Is the BitLicense About to Lighten Up on Crypto Ventures? [livebitcoinnews.com]
In order to get a license, they go through all that trouble, they have their AML and sanctions [compliance] – then they want to reach out with respect to a new coin and even if we've already approved that coin 175 times, they have to come back to us with a new application… Government is juggling 100 other things. How long does it take to complete this application? It can take months. I'm embarrassed to say there are at least one or two that took longer than a couple months. Sometimes it's needed, but sometimes it's not.
Bitcoin mining could help failing renewables projects profit over time [ambcrypto.com]
Digital asset management firm, CoinShares, published the second report this week of their bi-annual series called, 'The Bitcoin Mining Industry', which followed on from the previous issue, published back in June. The report detailed the geographic distribution of miners, the energy mix in play and the benefits Bitcoin mining can bring to the global economy.
GLOBAL DEBT TO BE WORTH $12 MILLION PER BITCOIN BY YEAR END [bitcoinist.com]
Bitcoin has achieved market capitalization close to some of the biggest corporations, ranging between $100 and $300 billion. But taken in proportion to the size of the world's financial system, BTC may have a different valuation.
Here's What Happens When You Use Lightning Network for the First Time [bitcoin.com]
Do you remember receiving your first bitcoin? Seeing those satoshis arrive in your wallet is a magical, almost spiritual, experience. In that moment, the most beautiful thing about bitcoin is not its censorship resistance or pseudonymity: it's that it works at the first time of asking. No pending account verification, no weekend processing delays, and no questions. What about Lightning bitcoin? Could it too work at the first time of asking? As Lightning Network approaches its second anniversary, I decided to find out.
Bitcoin Ransomware Hackers Lose Control of Their Decryption Tool [cryptoglobe.com]
A security firm has warned that the Ryuk bitcoin ransomware has broken its own decryption tool, causing affected users to lose their files even after sending the BTC ransom.
Software company Emsisoft told news outlet The Next Web that the hackers behind the Ryuk ransomware are responsible for the decryption error. According to the security firm, a recent update made to Ryuk caused the program to alter the way it calculates the length files, inadvertently making the decryption tool defunct,
Even if a Thousand Projects Don't Make It, Blockchain Is Still a Change Catalyst [coindesk.com]
Gartner, an IT research and consulting firm, came up with a framework to look at the stages of adoption and market enthusiasm of emerging technologies. Though criticized by some for being unscientific, the Gartner 'Hype Cycle' has caught on in popular culture. Where might cryptocurrencies and blockchain technology be now in that cycle compared with emerging technologies of the past?
More news and community @Publish0x
---
[광고]