The views and opinions expressed here are solely those of the author and do not necessarily reflect the views of CURATION. Every investment and trading move involves risk. You should conduct your own research when making a decision.
---
Bitcoin Price Clips $7.1K Futures 'Gap' as Bearish Warnings Persist [cointelegraph.com]
"I remain long bias myself looking to get back into cash once this CME gap is filled. The 4 hour looks ok for now, is resting above obvious demand in the 6k zone," regular Cointelegraph contributor filbfilb summarized to subscribers of his Telegram channel earlier Monday. In the latest analysis, filbfilb added that more broadly, BTC/USD was in a six-month downtrend but that bearish sentiment was beginning to lose its grip. Continuing into 2020, current levels may be suitable for accumulation prior to Bitcoin's block reward halving in May, he said.
Traders Prepare For a Big Bitcoin Drop as Shorts Stack 50% [newsbtc.com]
Regardless of the direction of the next move, it's clear that traders are expecting a big move in Bitcoin soon, and are taking positions in advance of what they expect to be a trend-defining movement, at least in the short-term. If Bitcoin price rises from here, it will need to reclaim resistance as support at $8,000 to get the market bullish once again, or the crypto asset is at risk of falling lower toward $6,000, or potentially even lower back into a bear market.
Bitcoin Price Drops Linked to PlusToken Scam by Chainalysis: Details [u.today]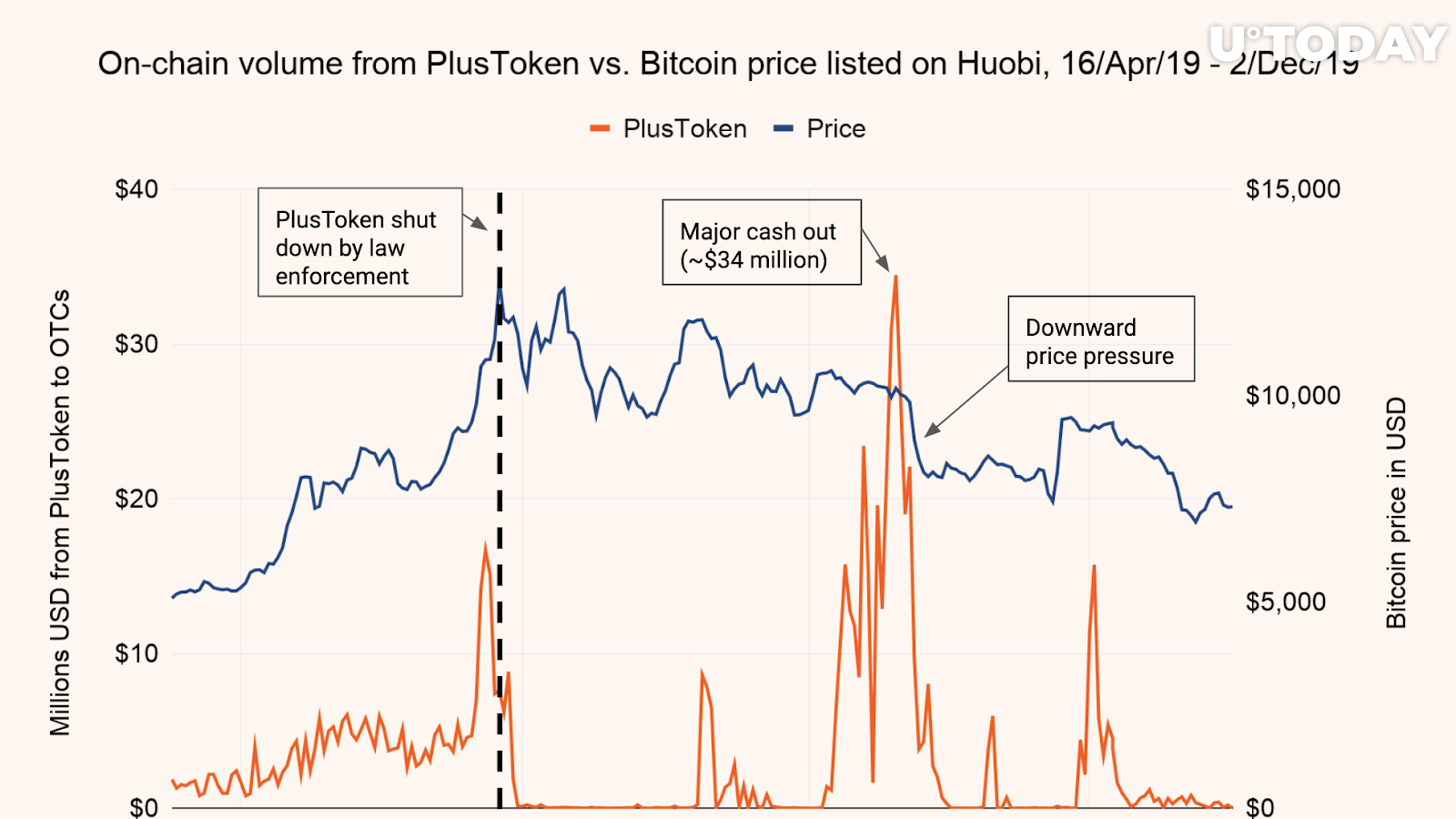 According to blockchain sleuth Chainalysis, the Bitcoin price could continue bleeding as long as those behind the PlusToken scam keep cashing out their coins. In its recent study, the firm suggests that there is a direct link between the price action of the leading cryptocurrency and the biggest crypto scam in history.
MARKETS DAILY: Weird News Out of Canada and a Predicted Bull Run [coindesk.com]
Bitcoin was flat this weekend but there are some bullish signals. Plus we talk about some weird news out of Canada, arrests in Asia after a suspect extortion plot, and one bright spot for blockchain in Asia…
Tune in as CoinDesk podcasts editor Adam B. Levine and senior markets reporter Brad Keoun run down recent action, track interesting longer-term trends, and highlight the best "thinking with tokens" and some of the most important crypto industry developments of the day.
Bitcoin, Ether, and XRP Weekly Market Update December 16, 2019 [btcmanager.com]
The total crypto market cap lost $10.2 billion of its value during the last seven days and now stands at $193.1 billion. The top 10 currencies were all in red for the same time frame with Binance Coin (BNB) and EOS (EOS) being the worst performers with 8.2 and 6.8 percent of loses respectively. By the time of writing bitcoin (BTC) is trading at $7,078 while ether (ETH) dropped further to $142. Ripple's XRP is trading at $0.212.
$12.3 billion longs got 'rekt' in 2019 on BitMEX; Shorting was a safer bet [ambcrypto.com]
With the launch of Bakkt's physically-settled Bitcoin Futures and other major updates, Bitcoin has grown and perhaps, matured, as a decentralized currency in the last 350 days or so. However, with Bitcoin and cryptocurrencies come inherent risks due to their volatile nature and many traders have faced volatility's music and suffered the consequences.
BITCOIN HEDGE NARRATIVE STRENGTHENS AS FED PLANS MORE FIAT INJECTION [bitcoinist.com]
Larger capital injections through the end of the year have been planned to avoid another lending rate spike. According to the central bank, the increased limit is to 'ensure that the supply of reserves remains ample and to mitigate the risk of money market pressures around year-end'. The consequences of prolonged quantitative easing could be very dire indeed. Banks are actively encouraging more lending in an economy that already has a galloping national debt of over $23 trillion.
5 Reasons Why the Dow Jones Catapulted to a Record High Today [ccn.com]
The Dow soared to a new all-time high on Monday.
Little new information about the US-China trade deal emerged, but investor sentiment brightened anyway.
Here are five reasons why the stock market rallied so aggressively today.

When the US and China unveiled the "phase one" trade deal last Friday, the Dow Jones Industrial Average responded by rallying aggressively – only to careen back into ho-hum territory amid mounting questions about what exactly the agreement entails.
Bitcoin Price Analysis: BTC/USD Facing Darkness Before Dawn, Focus Stays On $8k [coingape.com]
The cryptocurrency market continues to take a breather after a rough couple of weeks. Bitcoin tested $6,500 support in November before recovering slightly towards $8,000. A high formed at $7,872 put a stop to the momentum has Bitcoin bears took over. In the last couple of weeks, Bitcoin has been lethargic between $7,000 and $7,600. The support at $7,500 has been put in jeopardy several.
Crypto Traders Be Aware: Another Cryptocurrency SIM Swap Theft In The US [cryptopotato.com]
According to another report, SIM swapping has been around for years but picked up after the parabolic price increase of the cryptocurrency market in 2017 and early 2018. However, the report also concludes that the authorities have managed to crack down on such cases and they have dropped significantly in 2019. Nevertheless, crypto investors need to be careful and take every measure of safety required to protect their assets.
Ethereum 2.0 Could Be Launched on July 30, 2020 [coinspeaker.com]
While there really isn't anything too definite about a release date for the new Ethereum 2.0 upgrade, there's a strong enough suggestion by an insider. Ethereum Foundation core researcher and Ethereum 2.0 contributor Justin Drake started a GitHub discussion on Saturday about when Ethereum 2.0 should be launched. On the official Ethereum repository, Drake began the thread by saying:
Crypto Analyst Defends $1 Million Bitcoin Prediction – BTC, XRP, Litecoin, Stellar Newsflash [dailyhodl.com]
A crypto analyst who burst onto the scene in 2019 is defending the stock-to-flow model that he says indicates BTC will eventually break $1 million.
PlanB, whose analysis made it all the way to CNBC this year, says the model doesn't just show a high correlation between Bitcoin's stock-to-flow ratio and its price.
He says it shows the two are cointegrated, which implies that the relationship is especially strong, as if the ratio and price are tethered to one another.
IMF Cautiously Approves Central Bank Digital Currencies [cryptobriefing.com]
However, the 189 member-country organization has warned central banks to proceed with caution, outlining various risks of issuing central bank digital currencies. Among them, the most prominent are risks to the banking systems within countries. As the IMF says, "Deposits could be withdrawn from commercial banks, should people decide to hold CBDC in significant volume."
Binance's CZ: Bitcoin (BTC) Has Unlimited Fiat Potential [cryptovest.com]
BTC traded at $7,113.39, mostly reflecting the attitudes of market speculators. But extraordinary prices may be reached in cases of widespread BTC adoption. One of the vectors for wilder appreciation is the potential to allocate portfolios into BTC, as millennials come of age.
More news and community @Publish0x
---
[광고]