The views and opinions expressed here are solely those of the author and do not necessarily reflect the views of CURATION. Every investment and trading move involves risk. You should conduct your own research when making a decision.
---
[MARKETS DAILY] HOLIDAYS: What's a 'Satoshi'? [Updated Dec 23, 2019 at 17:39 UTC] [coindesk.com]
---
Bitcoin Price Will Drop $1,000 Before Seeing Real Bottom: Here's Why [newsbtc.com]
After such a low was reached, Bitcoin pumped to get traders bullish, then had a final $1,000 plunge to shake out trigger-happy investors one more time before the rally really began. If Bitcoin price can reclaim $10,000 and make a reattempt at prices above that level, the crypto asset could very well be back on its way into its next full run. But not before a final $1,000 shakeout makes things very confusing and scary for those hoping to buy the bottom.
Crypto Index Signals Buying Opportunity: Bloomberg [u.today]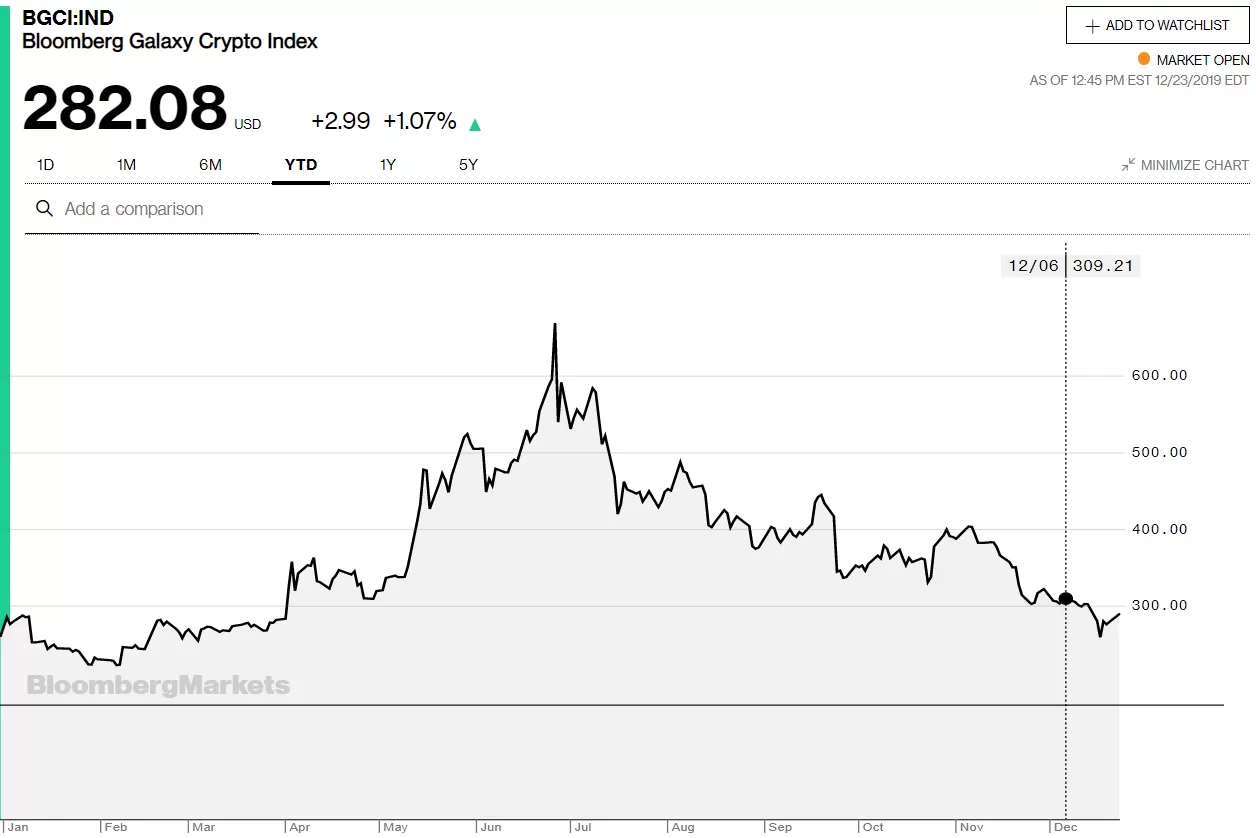 The three biggest cryptocurrencies (Bitcoin, Ethereum, and XRP) are responsible for almost 90 percent of its constituent weight. The weightings of the BGCI index depend on market capitalization but not a single cryptocurrency can surpass a 30 percent share (sorry, Bitcoin). The year-to-date return of the BGCI is $10.19 percent. While Bitcoin had a stellar year with more than a 70 percent increase, the top altcoins didn't fake so well — both Ethereum and XRP are likely to end this year with a loss.
Bitcoin Gathering Momentum to Reach $8,000 [cryptobriefing.com]
The BTC/USD pair has also broken above a falling wedge pattern on the daily and weekly time frames. Any technical corrections from current levels may mean that traders are looking for confirmation that a price floor is in place. Key support is found at the $7,380 and $7,100 level, while key resistance is found at the $7,650 and $8,000 level.
Mixed Outlook Looms even as Bitcoin Rally Attempts to Get Closer to $8000 [coinspeaker.com]
Supply Levels: $7,400, $7,200, $7,000
Resistance Levels: $8,000, $7,800, $7,600
Bitcoin corrected higher over the weekend along with other major cryptocurrencies. After a notable rebound from the price level at $6,500 last week to the highest level at $7,500, BTC held together between a narrow range from the level at $7000 to $7,300. The breakout pushed the price to break through the major barriers at the level of $7,200, $7,400 in addition to $7,600. However, the $7800 price level remains intact and unrestricted although it has been largely tested.
Crypto Update: Market Remains Mixed With All Eyes On BTC [hacked.com]
From a long-term technical perspective, XRP is in the worst shape, and while ETH and LTC were also leading way lower this week, they have been holding up relatively well, so far, today. The broader downtrends are clearly intact across the board, and since the smaller coins also failed to make technical progress in recent days, only BTC's relative stability is keeping bulls' hopes alive, and our trend model remains overwhelmingly bearish on all-time frames.
Bitcoin's shows progress on institutional front, 'but speed of funding is limited' [ambcrypto.com]
The launch of Bakkt, launch of Galaxy Digital's brand new BTC funds, Fidelity's bitcoin product and TD Ameritrade's bitcoin trading service on the Nasdaq via its brokerage platform marked some of the marquee events over the past 12 months, but according to Vision Hill's recent report, constructive participation is yet to enter the space.
Crypto trading spreads have plunged 90%, pushing desks to rethink their strategies [theblockcrypto.com]
Data from B2C2 shows that spreads have fallen off a cliff since the crypto boom of 2017
Since February 2019, they've collapsed a full 90%
Declining spreads has brought several desks to their knees and forced others into new lines of business.
Ripple Chief Predicts Dramatic Crypto Market Transformation in 2020, Says World Doesn't Need 2,000 Digital Assets [dailyhodl.com]
Garlinghouse says a long list of digital assets will likely fall by the wayside as the market searches for utility and real-world use cases.
"The world doesn't need 2000+ digital assets. While I don't think there will be one coin to rule them all, it's clear that if an asset doesn't have a proven use case beyond speculation, it is not going to survive."
He also predicts increasing consolidation among crypto companies as bigger fish acquire smaller startups in the space.
Unlike Libra, Digital Yuan Will Not Need Currency Reserves to Support Value: PBOC Official [coindesk.com]
Speaking to reporters at The China Finance Association Academic Annual Meeting and China Finance Forum Annual Meeting in Beijing Saturday, Mu said the digital yuan would be distinct from other forms of cryptocurrencies, including Libra.
"The [digital yuan] currency is not used for speculation. The RMB is used to spend, not for speculation. It does not have the characteristics of bitcoin speculation, nor does it require the currency basket assets to support the value of the currency like stable currency," Mu said, as reported by Shanghai Securities News.
South Korea to Roll Out Blockchain-based Local Currency [coinidol.com]
Yes, there are still some small failures here and there in the industry because it is a common thing to everything that is still nascent and developing. But leaving other factors constant, the country is at its best in terms of technological innovations. Some of the largest companies based in Korea including KT Corp., Samsung, Kakao, LG, are busy engaging and competing amongst themselves to create and come up with the best out of blockchain. Also, in the banking and finance sector, Shinhan Bank, KEB Hana Bank, and Woori Bank started their own DLT projects investments and they are trying to take advantage of the technology into their business blueprints.
BitMEX: Crypto IEO 'Poor Performance' Sees Investors Lose up to 98% [cointelegraph.com]
Initial exchange offerings (IEOs), which launched in 2019 have lost investors up to 98% of their money, damning new statistics show.
In its latest report on the phenomenon published on Dec. 23, the analytics arm of exchange BitMEX, BitMEX Research, identified twelve major IEOs that launched this year. Of those, eleven are now almost worthless compared to the price at which they first traded on exchanges.
How Blockchain Technology Can Provide a Global Software-as-a-Service Platform [cryptoglobe.com]
While blockchain as a concept is an ingenious mechanism, proving to increase business efficiency and productiveness – not all blockchains are created equally. The open-source nature of some blockchains can invite bad actors, leaving the chain exposed and vulnerable. Attack vectors such a denial of service attack, or DDoS, can effectively render the blockchain useless. Moreover, a 51% attack can provide any malicious assailant dominance over the entire network.
Bitcoin (BTC) Hashrate Peaks Unexpectedly [cryptovest.com]
Bitcoin (BTC) expanded its hashrate just as prices were picking up. Mining activity bounced off 86 EH/s, and within a couple of days had reached above 111 EH/s. This all-time peak arrives just months after the previous record at 110 EH/s. Miners ramped up their activity as BTC prices started to grow more bullish. One of the reasons is the difficulty recalculation last week, which only added 0.56% to the hardness of hash generation.
Nic Carter: The Future Is Crypto, Not Blockchain [livebitcoinnews.com]
Decentralized, rules-based databases like as blockchains offer us the hope of overcoming some of the limitations of the early internet systems that could enable the original promise to be more fully realized. However, early experiments with cryptocurrencies have been, among other things, wasteful, subject to speculative bubbles, or taken over by ideological factions of wealth. Cypherpunks who hope to fairly and efficiently govern their communities, or even an important aspect of society like currency, are realizing they need to think more carefully about the rules of these systems, lest they fall into other versions of the traps of Web 1.0 and 2.0.
More news and community @Publish0x
---
[광고]