The views and opinions expressed here are solely those of the author and do not necessarily reflect the views of CURATION. Every investment and trading move involves risk. You should conduct your own research when making a decision.
---
[MARKETS DAILY] Crypto News Roundup for Jan. 28, 2020 at 17:00 UTC] [coindesk.com]
---
BTC Price Back at $9,000 But No, Coronavirus Isn't 'Good for Bitcoin' [cointelegraph.com]
Bitcoin (BTC) may be gaining thanks to "economic fear" over coronavirus — but only up to a point, analysts are concluding as the disease spreads. The cryptocurrency hovered at around $9,000 on Tuesday, capping 4% gains for the week in which coronavirus sent China into partial lockdown.
Bitcoin May Collapse Towards Yearly Lows Because of This One Factor [newsbtc.com]
"BITCOIN | BTC: Bullish bias aside, these two resistance levels that were broken BUT never tested as support keep me awake at night. Unless we get mass retail FOMO fueled by 2017 media/radio attention making these levels 'a thing of the past' – they WILL get closed," he noted.
Bitcoin Price: Bulls Press on Pause, Reaching Past $9,150 Level [coinspeaker.com]
Today Bitcoin price has reached the levels over $9,150. The coin moved within a strong bull trend and reached an intraday high of $9,164.
Bitcoin managed to stay in the green zone, despite correction from a recent high on the level of $9,149. The market value fluctuates at a $9,128 level. After an increase of around 2% per day, Bitcoin's prevailing daily trend is slightly bullish, while volatility levels suggest that further action will be prone to decline.
This Is Why the Dow Jones Surged 225 Points Today [ccn.com]
Global stock markets rallied on Tuesday as the WHO refused to declare a global health emergency around the coronavirus.
Providing an additional boost for the Dow Jones, U.S. consumer confidence came in well above expectations.
Dow bulls appeared to ignore a CBO report indicating the federal deficit will hit $1 trillion for the first time since 2012.
British Court Orders Bitfinex to Freeze $860,000 Tied to Ransomware Attack [cryptoglobe.com]
According to a report by New Money Review and a filing published last week by the England and Wales High Court, a British court has ordered Bitfinex to freeze the address of an account tied to a ransomware payout and share the know-your-customer information with authorities.
These Factors Suggest XRP Could See a Parabolic Rally Towards All-Time Highs [newsbtc.com]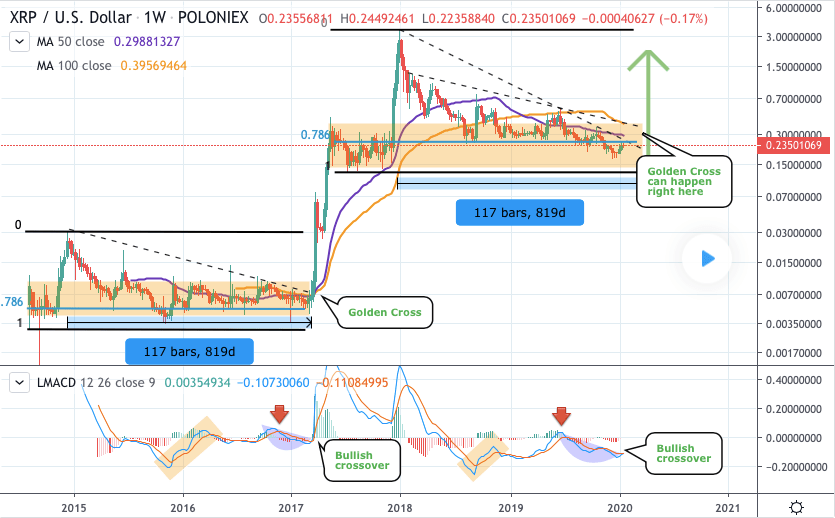 Although XRP may currently be in a precarious position, it is important to note that TradingShot – a top TradingView analyst – explained in a recent post that he believes it could be poised for a move back towards its all-time highs.

"Well not much to be said here other than the notable similarities between the two periods: December 2014 – March 2017 vs December 2017 – March 2020," he explained while pointing to the chart seen below.
Crypto-Related Deposits Drop by Half at Metropolitan Commercial Bank [coindesk.com]
Metropolitan Commercial Bank's deposits from digital currency businesses have steadily declined for more than a year, a sign competition is heating up in a field where the bank was once one of the only games in town.
A deep dive into the Paxos stablecoin ecosystem [theblockcrypto.com]
Paxos launched the Paxos Standard (PAX) stablecoin in 2018
PAX has become a fast follower to the market leader of 2018 stablecoin cohort, USDC
One interesting strategy Paxos has deployed is white-labeling its stablecoin solutions to launch stablecoins with exchanges like Binance and Huobi
These partnerships have significantly boosted trading volumes and issuance in Paxos' stablecoin ecosystem.
Bitcoin Gold Suffers Its 2nd and 3rd 51 Percent Attacks Over Two Years [livebitcoinnews.com]
The miners saw to it that approximately $72,000 in BTG funds were double spent. This is money in their pockets after they gained control of the network's hash rate. They performed two separate attacks on the network; the first saw them net gains of approximately $19,000 while the second earned them more than $50,000 in BTG funds.
Three High Profile Crypto Networks Face Reward Halvings This Spring [bitcoin.com]
This spring, three of the largest crypto networks, BTC, BCH, and BSV, will undergo their halvings around the same time for the first time in history. During the last halving in 2016, only one network existed, but now three protocols share the same consensus algorithm. Google Trends shows that searches for the term "bitcoin halving" have skyrocketed in recent days and it's still unclear whether the halvings are priced into the three markets.
Deutsche Bank: Electronic, Crypto and Peer-to-Peer Payment Strategies Could Become Epicenter of Global Economic Power Shift [dailyhodl.com]
"As China (and India) develop electronic, crypto, and peer-to-peer strategies, the epicentre of global economic power could shift. China is working on a digital currency backed by its central bank that could be used as a soft- or hard-power tool. In fact, if companies doing business in China are forced to adopt a digital yuan, it will certainly erode the dollar's primacy in the global financial market."
More news and community @Publish0x
---
[광고]