The views and opinions expressed here are solely those of the author and do not necessarily reflect the views of CURATION. Every investment and trading move involves risk. You should conduct your own research when making a decision.
---
Listen to Elon Musk's Latest EDM Beats on the CoinDesk Crypto Roundup [Updated Jan 31, 2020 at 17:00 UTC] [coindesk.com]
---
Price Analysis Jan 31: BTC, ETH, XRP, BCH, BSV, LTC, EOS, BNB, ADA, ETC [cointelegraph.com]
Morgan Creek Capital CEO Mark Yusko believes that Bitcoin should be a part of every investment portfolio. The performance analysis of the past five years shows that even portfolios that only held 1% of their total investments in Bitcoin managed to outperform their competitors. Bitcoin offers a ten-to-one downside capture, which makes it one of the most asymmetric assets that Yusko has ever seen.
This Eerily Accurate Fractal Suggests Bitcoin Will Soon Explode to $12,000 [newsbtc.com]
The sharp decline from $9,550 does make this 2020 high look like a local top for the cryptocurrency, and it is a strong possibility that the crypto sees some further short-term downside.

In spite of this, one eerily accurate fractal pattern formed between May and June of 2019 that BTC has been closely following is suggesting that BTC may now enter a consolidation phase before moving up towards $12,000 in an explosive movement.
Bitcoin Misses $10,000 Mark But Demand Remains Firm [bitcoinmarketjournal.com]
That's right bro…. tokenized lambos!!

Kidding aside, according to Knight Frank's Luxury Investment Index, classic cars have been one of the best performing investments of the last decade. So, as we transition to a fully digital, fully tokenized economy, you may not be able to get behind the wheel but at least you can use these beautiful machines as part of your portfolio.
Peter Brandt Says Bitcoin (BTC) Is in 'Early Stages' of Another Parabolic Move [u.today]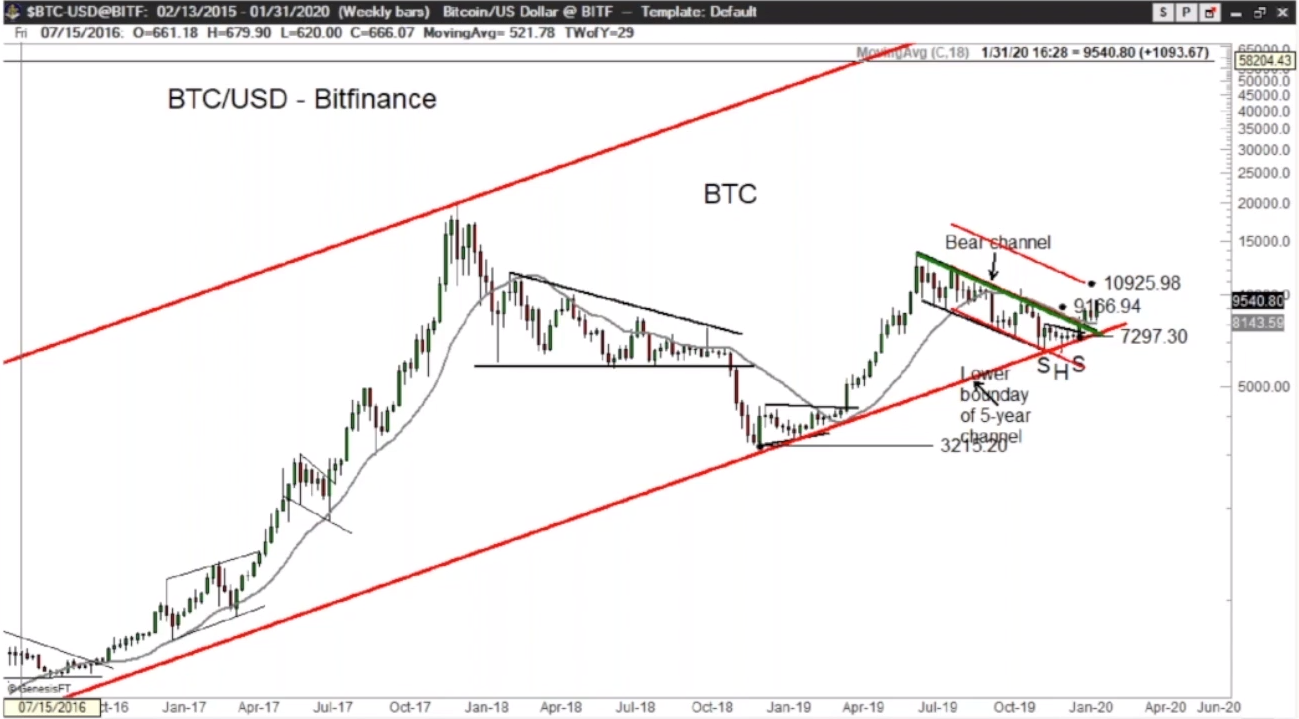 The chart shared by Brandt shows that Bitcoin has finally managed to break out of a falling channel after forming an inverse head-and-shoulders (iH&S) pattern on the daily chart.

"That was important (to complete the channel) because it was an indication that this retest of this massive lower boundary on the weekly chart is held." 

The $6,500 level, which was tested in December, could end up being a significant bottom for a long period of time.
Options Growth Will Ignite Innovation in the Bitcoin Market – But Not in the Way You Think [coindesk.com]
The existence of listed vanilla options on mainstream exchanges is only the beginning. For corporates, miners and others, the excitement lies in what can be done once saturation of underlying liquidity in volatility arrives. This is the base on which a whole host of other volatility-related products can be built, particularly as it relates to corporate hedging and risk management. Ultimately, this helps reduce unwanted exposures and enables more investment. In this way, listed options serve as the starting point for a whole new array of products and services.
Bitcoin Outperforms As Dow Plunges 600 Points, Coronavirus Scare Impacts Travel [dailyhodl.com]
Global growth concerns fueled by earnings reports and ongoing worries about the coronavirus epidemic contributed to a stock market sell-off on Friday that pushed the Dow Jones Industrial Average down 603 points, or 2.1%, to close at 28,256.

Investors dumped equities and tapped into potential safe haven assets such as Bitcoin and gold in a bid to outmaneuver market uncertainty and China's latest fears about the impact of the coronavirus on trade and travel.

The Dow is now down 3% since last Friday when it closed at 29,160.
These Are the Most Traded Tokens on Decentralized Exchanges Right Now [thebitcoinnews.com]
The decentralized exchange landscape is evolving fast, with new liquidity aggregators and relays enhancing usability while reducing slippage. Trade volumes are also strong across the leading ERC20 DEXs and Binance DEX. The bulk of this volume is captured by a small proportion of tokens, however, whose demand augurs well for the projects and the DEXs they dominate.
SOUTH KOREAN CRYPTO WALLET BITBERRY CALLS IT QUITS [bitcoinist.com]
South Korean cryptocurrency wallet app, BitBerry, is closing down for good on the 29th of February, 2020 at 3:00pm. According to a local outlet, all support for the app will be terminated.

Bitberry gained significant traction among the crypto community because it allowed users to sign in with a Kakao talk ID.

Kakao Talk is one of the most popular messenger apps in S. Korea, and BitBerry simplified the complexities of sending and receiving coins and allowed users to receive crypto payments to a mobile number.
XRP Drops by 3% Signaling Possible Breach Of $0.300 USD In Coming Weeks [coingape.com]
XRP/USD slightly drops by 2.96% from intraday highs as bulls failed to breach key resistance at $0.2500 USD. The third largest cryptocurrency currently trades at $0.2300 USD, with a total market cap of $10.4 billion. The price represents a sustained sideways trading momentum in the market since breaking the $0.2000 USD mark at the start of the month.
Litecoin Closing Above This Key Level Will Make it a "Screaming Buy" [newsbtc.com]
At the time of writing, Litecoin is trading up nearly 5% at its current price of $67, which marks a climb from daily lows of $63, and a slight decline from highs of just under $70.

Currently, LTC is one of the only major altcoins that is trading up over a 24-hour period, signaling that it currently has greater technical strength than many alternative digital assets.
Ethereum's march above $186 will begin after corrections at $174 [ambcrypto.com]
Ethereum's valuation received another boost over the past 24-hours as the price spiked from $170.36 to $186.40. Major resistance at $175.06 was breached in the process as the asset managed to cross the $180 mark. At press time, Ethereum continued to consolidate above at $182.78 but major indications for a pullback were surfacing in the charts.

The 2nd largest asset managed to improve its market cap with a current valuation of $19.28 billion.
Reason To Worry? Trezor Wallets Can Be Physically Hacked In Less Than 15 Minutes [cryptopotato.com]
Trezor is believed to be the most popular hardware wallet, together with Ledger. During last October of 2019, Kraken Security Labs had announced that they had found a critical weakness in a few of Trezor's cryptocurrency hardware wallet devices, namely the Trezor One and Trezor Model T.

Today, they've released the details of this vulnerability, as well as how they managed to succeed in performing the attack.
Fewer Pronouncements of BTC's Death in 2019, but Here Are the Top 5 [cointelegraph.com]
Unsurprisingly, the number of Bitcoin obituaries skyrocketed during those years. In 2017, Bitcoin's "death" was predicted 124 times, while 2018 saw that number reduced to 93. At the end of 2019, a full decade since Bitcoin's inception, the number of articles proclaiming the end of the cryptocurrency had fallen to just 40.

In this listicle, Cointelegraph looks at the top five Bitcoin burials of the last year.
Everything Wrong With The Cannabis Industry: Investors Beware [ccn.com]
Marijuana is now legal for medical use in 33 states and recreational use in ten states, yet it remains a Schedule 1 drug.
Stock prices of large companies like Canopy Growth and Cronos Group have fallen by more than 65% since their earlier highs in 2019.
As bad as 2019 was for the cannabis industry, this year could be even worse.
More news and community @Publish0x
---
[광고]