The views and opinions expressed here are solely those of the author and do not necessarily reflect the views of CURATION. Every investment and trading move involves risk. You should conduct your own research when making a decision.
---
The Federal Reserve Has Its 'Come to Satoshi' Moment [Updated Feb 6, 2020 at 20:00 UTC] [coindesk.com]
---
Bitcoin Price Targets $10K as BitMex Open Interest Soars to $1.5B [cointelegraph.com]
The bullish sentiment continues to build in the crypto market as numerous altcoins post double-digit gains on a daily basis. Bitcoin's spot price (BTC) on crypto exchanges also continues to push higher with the passing of each day and earlier today the price broke above $9,800, extending to $9,862 before pulling back to trade around $9,650.
TOP 3 Price Predictions: BTC, ETH, XRP — Analyzing Potential of Short-Term Bear Pressure [u.today]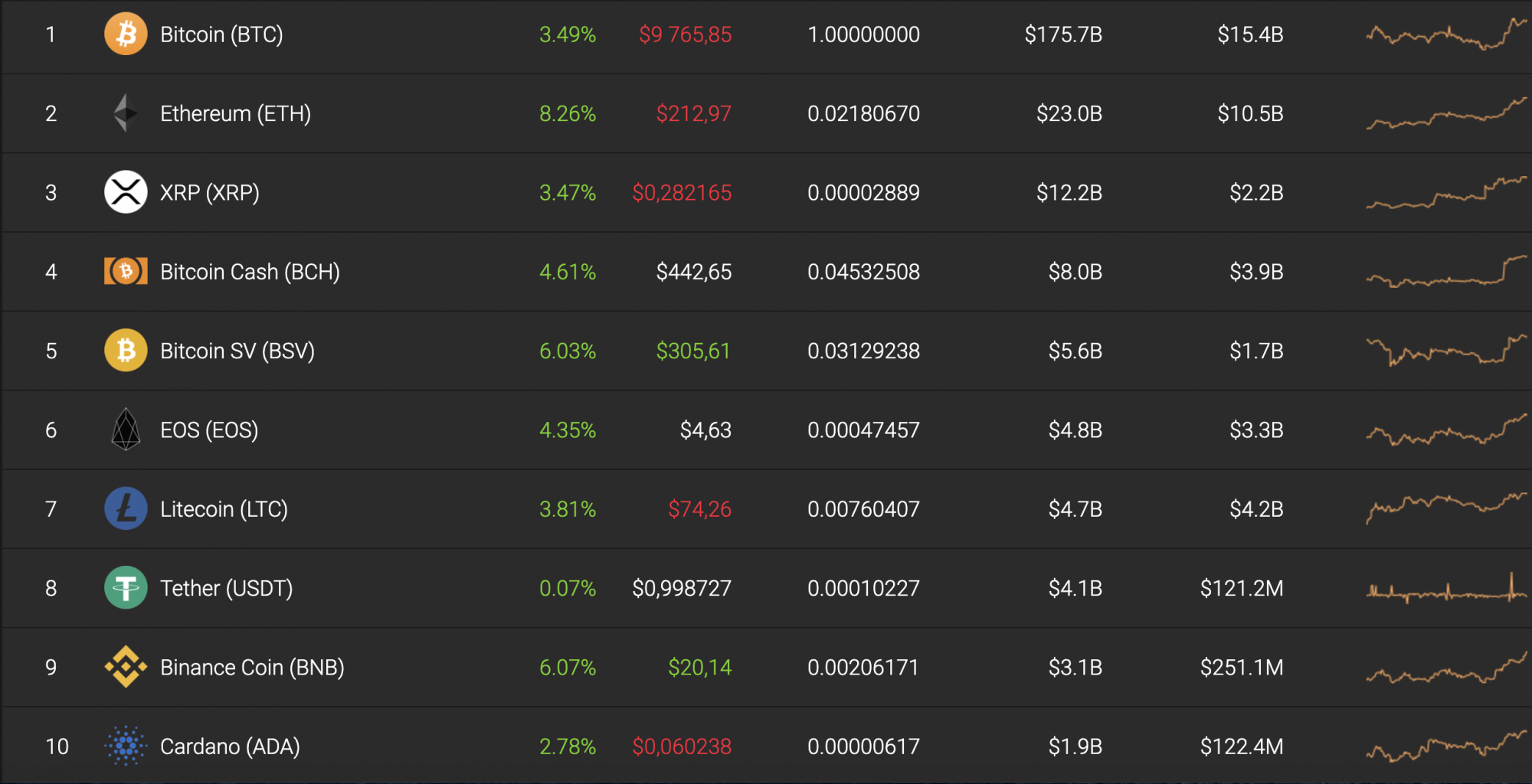 The cryptocurrency market has not gone into a downward correction, thereby canceling the formation of reversal models on the charts of many cryptocurrencies. Digital assets continue to test nearby resistance levels. The pressure from the buyers is not decreasing and there are high chances that we will see continued development of the upward impulse to the next levels.
Prepare for Fireworks if Bitcoin Closes Above this Critical Level [newsbtc.com]
It is important to note that how BTC responds to this key level in the coming several hours will offer unparalleled insights into where the aggregated markets are heading next, as a daily close above this level could invalidate all of its current bearishness.

If the cryptocurrency is rejected at this level, however, it is possible that it will continue dropping until it reaches the lower boundary of this wide range at roughly $7,500.
TOP 5 CRYPTO TRADING TIPS TO PREPARE YOU FOR THE UPCOMING BULL MARKET [bitcoinist.com]
Now that we are finally primed for a new bull market after two years of crypto winter, what's the best way to prepare for those gains? Let's take a look at 5 need to know tips to make sure you're not singing the crypto blues.

…

Do your due diligence and make sure you are fully aware of what you're investing in, and if the exchange you're using is scammy or not. Be careful out there, and make some money!
Bitcoin [BTC] See $5,000 Before Rallying to a New All-Time High, Analyst Warns [coingape.com]
That will cement the current trend and perhaps set the stage ready for further gains towards the $12,000 and even June 2019 highs of $13,800.

Failure and a turnaround would confirm the $9,800-$10,000 zones as an important resistance zone, and a reason to dump BTC until the CME Gap is closed.

Already, one trader is warning of a deep BTC correction. However, Bitcoin's correction won't be as deep and instead of $5,000, BTC would drop to $8,500 zone.
The results would see $100 million of longs liquidation at BTC derivative platforms.
Bakkt's Bitcoin Payment App on Horizon, Loyalty Platform Buyout [cryptobriefing.com]
This acquisition is part of Bakkt's shift toward consumer services. Last year, it launched futures trading, derivatives products, and a custody service—all of which are aimed at institutional investors. By contrast, the upcoming payments app will be aimed at the general public.

More details should become clear in the next few months. Bakkt expects to launch its app within the first half of this year, and it plans to complete its acquisition of Bridge2 for an undisclosed amount by the end of this quarter.
Open Positions in Bakkt's Bitcoin Futures Jump to Record Highs [coindesk.com]
Open interest, or the number of open futures contracts, rose to $13 million, surpassing the previous record high of $12 million reached on Feb. 3, according to data analytics firm Skew.

Open interest has risen sharply, by 13.6 percent from $5.5 million to $13 million over the past two weeks. Open positions on the Chicago Mercantile Exchange's bitcoin futures also jumped to a five-month high of $249 million on Wednesday – up 34.5 percent from $185 million seen two weeks ago.
Bitcoin and Ether Market Update: February 6, 2020 [btcmanager.com]
Total crypto market cap added $11.5 billion to its value since Monday morning and now stands at $273 billion. Top ten coins are all in green for the last 24 hours with Bitcoin Cash (BCH) and Bitcoin SV (BSV) leading the pack with 15.2 and 12.8 percent of gains respectively. At the time of writing bitcoin (BTC) is trading at $9,653 on the Bitstamp daily chart, while ether (ETH) climbed up to $207 and Ripple's XRP moved up to $0.28.
Ransomware attacks through crypto continue to surge [paperblockchain.com]
2020 Crypto Crime report released by Chainalysis has revealed that ransomware attack manifested using crypto is unknown. Chainalysis in the published document revealed that over $6 million was deposited into wallet addresses linked with ransomware, as the report emphasizes that the figure is grossly below the real amount.
The Coronavirus Threatens Chinese Bitcoin Mining Operations [nulltx.com]
The coronavirus has affected many aspects of life in China. Contrary to what most people assume, it can affect Bitcoin mining operations as well.

One mine located in a remote suburb has been shut down as a precautionary measure.

Why the hardware needs to be shut down is a topic of debate.

The official response is to contain the outbreak of the coronavirus.

However, mining machines do not go out on the streets, thus they seem unrelated to the spreading of the virus.
BITCOIN VS. ALTCOINS: WHICH WILL MAKE YOU MORE MONEY IN 2020? [bitcoinist.com]
Bitcoin is the most decentralized project, with the most users, and the best minds in computer science currently working on advancing the networks development. It has the largest network effect, the most supporting infrastructure built out around it, and the best trade-offs for self sovereignty. Perhaps most importantly for traders, Bitcoin also has the most liquidity, and is the most secure network, with the highest amount of POW hash rate to validate transactions.
Bitcoin SV, Ethereum Classic's volatilities move independent of Bitcoin [ambcrypto.com]
SFOX's market report for this month showed that all major crypto-assets finished January with significant month-on-month gains — with some unexpected contenders like Bitcoin SV and Ethereum Classic rising by over 100%.

While prices have been on the rise, coupled with substantial growth in offered institutional products and regulatory clarity, there are still several unknown variables in the equation. According to SFOX, these include whether Bitcoin can function as a safe-haven asset, the level of institutional appetite, and the impact of the upcoming halving event on Bitcoin's value.
Y Combinator-backed Carbon partners with Wyre as the startup experiments with markets outside of crypto [theblockcrypto.com]
Crypto startup Carbon has partnered with payments provider Wyre to offer users robust fiat-to-crypto rails.

Carbon aims to help payment companies instantly onboard crypto users via its API or widget. The firm recently launched a beta version of its exchange processing gateway to enable large crypto exchanges to process credit and debit cards for a reduced fee, Carbon CEO Sam Trautwein told The Block.
More news and community @Publish0x
---
[광고]