The views and opinions expressed here are solely those of the author and do not necessarily reflect the views of CURATION. Every investment and trading move involves risk. You should conduct your own research when making a decision.
---
DISCUSSION: US Crypto Taxes Are a Nightmare. Could These Proposals Help? [Updated Feb 9, 2020 at 18:40 UTC] [coindesk.com]
---
What Caused Bitcoin Price to Surge Past $10K Over the Weekend? [cointelegraph.com]
Other investors like Adaptive Capital general partner Willy Woo and Three Arrows Capital CEO Su Zhu said that both fundamental and technical factors have supported the rally since the beginning. When Bitcoin's price was hovering at around $7,000, Zhu noted that the premium of the BTC/USDT pair indicated an accumulation phase was starting particularly in Asia.

While the explanations for the recent Bitcoin upsurge vary, they ultimately can be narrowed down to three broad factors: accumulation since December 2019, on-chain data indicating a rise in investor activity and a possible manipulation by whales.
This Simple Analysis Says Bitcoin Will Jump 15% to $11,500 in Coming Weeks [newsbtc.com]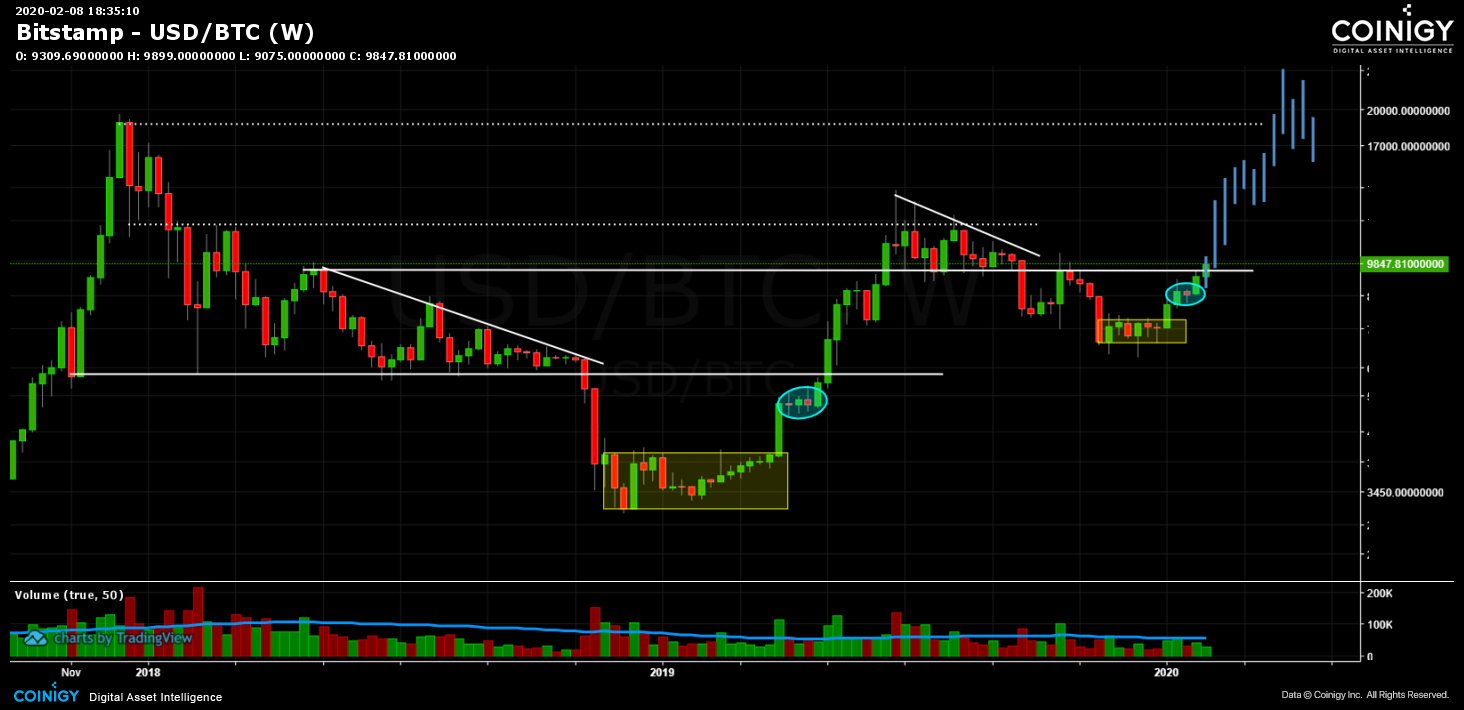 In the recent edition of the Decentrader newsletter, author and cryptocurrency trader Filb Filb drew attention to the $9,550 level for Bitcoin by posting the below chart, which shows that this price point has always been an inflection point for the market.

More specifically, when prices passed above $9,550, the leading crypto asset gained even more strength, and when prices failed to break this level, rallies quickly turned into bearish reversals.
Prediction: Bitcoin to Rival Gold as a Store of Value in the Digital Age Thanks to Halving [thebitcoinnews.com]
Bitcoin is set to rival gold as a store of value in the digital age argues Mike Co, over at the Coinbase Blog. According to his view, gold has been a historic store of value primarily because of its scarcity and that is something that the cryptocurrency can replicate. Moreover, while the precious metal is very rare, there is no way to undeniably verify the exact total gold supply, unlike with the digital asset. And scarcity is also baked right into code of bitcoin, with the software placing explicit limits on how much can be produced and when. This is done with deterministic methods such as a mandatory halving.
BITCOIN PRICE WILL REMAIN ABOVE $10K IF THESE 3 THINGS HAPPEN [bitcoinist.com]
INSTITUTIONAL INVESTMENT MUST ACCELERATE
PLATFORM DEVELOPMENT MUST CONTINUE
BITCOIN FIAT ON-RAMPS MUST IMPROVE
Regardless of where Bitcoin's price moves in the short-term, market sentiment is presently optimistic, and the blockchain revolution is very real. Thus, there is little doubt that any challenges to mass adoption will eventually be resolved.
Bitcoin (BTC) Could See a Notable Correction Before Uptrend Continues [ethereumworldnews.com]
It's no secret that Bitcoin has been caught within a firm bull trend throughout 2020, and yesterday's rally to over $10,000 seemed to suggest that this uptrend has reached a boiling point, with a major parabolic movement looming on the horizon.

It is important to note that BTC has not yet incurred any type of significant correction throughout its rapid rise over the past several days, and analysts are now noting that it may dip to $9,400 before it continues its uptrend.
TOP 3 Price Prediction for BTC, ETH, XRP: Time for Correction Against Overbought Market [u.today]
Bitcoin (BTC) has broken the psychological $10,000 mark. Yet, the dominance rate for the main crypto continues to decline, and currently makes up 63.72%.
From a technical perspective, the decline might start between the range of $10,250-$10,300, which is a crucial zone for the bulls. If they do not manage to break it, then a rollback will be a up to the liquidity zone around $9,500.
Bitcoin Surges Past $10K: Hedging Against Coronavirus or Halving FOMO? [cryptoglobe.com]
Although it is impossible to say with certainty which of these two factors (if any) has had the most influence on the price of Bitcoin, it is undeniable that the daily reports out of China about the effects of the outbreak on the Chinese economy — as the result of temporary closure of shops/, factories, and offices — paints quite a bleak picture not just for the Chinese economy but the world economy.
Bitcoin Cash might breach ascending channel to $515 next week [ambcrypto.com]
Bitcoin Cash started 2020 at around the $200 level, quite a far cry from the cryptocurrency's all-time high value. Since the start of the year, however, BCH rose by nearly 125%, valued at around $456 at the time of writing. According to CoinMarketCap, Bitcoin Cash had a market capitalization of over $8.2 billion, with nearly $4.2 billion worth of BCH traded in the last 24 hours.
Massive Altcoin Rally Inbound After Bitcoin's Dominance Broke a Key Level [newsbtc.com]
Interestingly, unlike previous rallies, Bitcoin and altcoins have been rising in tandem, suggesting that fresh capital is entering the markets rather than investors siphoning funding away from Bitcoin and towards altcoins, or vice versa.

This may change, however, as one analyst is now noting that Bitcoin's dominance just broke beneath a critical support line, suggesting that altcoins are about to see some intense upwards momentum.
Top 9 Blockchain Stocks to Invest in 2020 [coindoo.com]
This has been our list with the nine top blockchain stocks you should consider for investment in 2020. While there are certainly other ways of investing in blockchain businesses, such as ICOs, STOs, and others, many of these methods are still unregulated in most markets.
Top 5 Cryptos This Week (Feb 9): XTZ, BNB, BSV, ETH, LINK [cointelegraph.com]
However, the focus of the crypto industry remains on the forthcoming Bitcoin halving. Coinbase believes that the supply rate reduction will further cement Bitcoin's position as digital gold and it will act as a rival to gold in the digital age.

American provider of investment data Weiss Ratings has also upgraded its rating for Bitcoin to A- due to "improving fundamentals and positive price action ahead of Bitcoin's next halving."
Crypto Analyst Calls 4,300% Ethereum Rally With ETH 2.0 Launch on the Horizon [dailyhodl.com]
A popular crypto analyst says he expects the value of Ethereum, the world's leading smart-contract blockchain, to skyrocket by over 4,300% from its current price of $225.

Bitcoin Macro gave his fearless forecast after being asked by one of his followers to provide his year-end prediction for the coin, saying ETH may climb to $10,000 in a new bull cycle.
Coronavirus Checks China's Blockchain Ambitions [coindesk.com]
This crisis could be far worse – both in terms of death and in terms of economic damage. The Coronavirus could set back China's ambitions to dominate the next era of technology – in artificial intelligence, 5G, robotics, semiconductor chips to name a few industries – but it could also lead to better U.S.-China relations and smoother distribution of medicine through collaborative blockchain projects. As awful as the virus is, everyone will win if we can defeat its spread.
Ajay Banga: Too Many Red Flags with Libra [livebitcoinnews.com]
When you don't understand how money gets made, it gets made in ways you don't like… I'm like, 'This doesn't sound right' […] For financial inclusion, the government has got to pay you in this [currency], you've got to receive it as an instrument you can understand, and you have to be able to use it to buy rice and cycles. If you get paid in Libra which go into Calibras, which go back into pounds to buy rice, I don't really understand how that works.
More news and community @Publish0x
---
[광고]