The views and opinions expressed here are solely those of the author and do not necessarily reflect the views of CURATION. Every investment and trading move involves risk. You should conduct your own research when making a decision.
---
Bitcoin News Roundup for March 10, 2020 [Updated Mar 10, 2020 at 16:00 UTC] [coindesk.com]
---
Bitcoin's Plunge Due to Traditional Markets Falling or PlusToken Dumping? [cointelegraph.com]
Over the past several weeks, mainstream markets have been plagued with fear, uncertainty and doubt — partially the result of the ongoing coronavirus crisis.

The Dow Jones Industrial Average, or DOW, fell over 2,000 points on March 9 alone. Additionally, oil markets took a severe hit, falling more than 20% on the same day.

Bitcoin has faced a similar decline over the past week, falling from $10,000 on Feb. 24, down to $7,650 by March 9.
Bitcoin Options Saw Record Volume of $198M Amid Recent Price Drop [coindesk.com]
The open positions surged from $250 million to $950 million in the first six weeks of the year and has remained elevated ever since, a sign of increased institutional participation in the bitcoin market.

Looking ahead, bitcoin's option market could continue to register strong volumes because of uncertainty is likely to stay high ahead of the May 2020 reward halving, the coronavirus pandemic and the prospects of an all-out oil price war between Saudi Arabia and Russia.
Is Declining US Interest in Bitcoin Halving a Bad Omen for BTC Price? [newsbtc.com]
The third Bitcoin halving cycle is rapidly coming to a close. The multi-billion-dollar question on the lips of many investors is whether price performances following past events will repeat.

According to Google Trends, it looks like US interest in the event is actually waning with just weeks to go. Could this be a sign that perhaps this time the rocket might explode en route to the proverbial moon?
Global stock market plunge, US stocks trading halted, but IPSE grows strongly against wind [nulltx.com]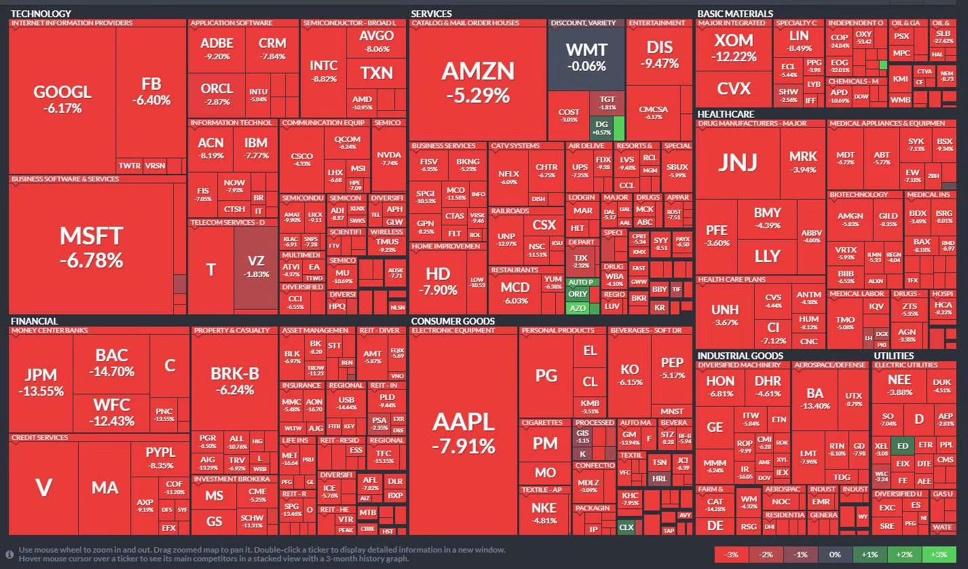 On March 9th, a black swan broke out in the global market: the negotiations on oil production cuts between OPEC (Organization of the Petroleum Exporting Countries) and Russia broke down, which led to the collapse of the major oil-producing countries' alliances and triggered a full-scale price war. As soon as the news came out, the oil market collapsed immediately, and the price of oil in the Asian morning session plummeted by nearly 30%, reaching around $ 30.
Hedge Fund Executive Predicts Sharp Bitcoin (BTC) and Crypto Turnaround in Two Months – Here's Why [dailyhodl.com]
Bitcoin is down 25% from its 2020 high of around $10,500 amid a widespread market pullback triggered by the coronavirus. Jehan Chu, an executive at the blockchain hedge fund and venture capital firm Kenetic Capital, believes the pain is not over yet.

In a new interview with Bloomberg, Chu paints a short-term bearish picture for BTC and other cryptocurrencies.
Bitcoin Price Sees Mild Recovery Bounce Above $8,000 Amid Global Market Turmoil [zycrypto.com]
Bitcoin fell more than 16% within 72 hours but it's currently seeing a significant recovery bounce above $8,000 which could soon change the 4-hour downtrend. Either way, the bulls are not facing a lot of resistance considering the shortness of the bear move. If they are able to establish a strong 4-hour uptrend, they will have no problem reaching $9,000 again although the daily downtrend will be tough to change.
Altcoins showing signs of life [decrypt.co]
Altcoins fell with bitcoin yesterday—but, like BTC, are showing modest recovery today.
The biggest winner of the day was Contentos's COS, which saw its price pump 158%.
Most other coins in the top 200 say modest single-digit boosts.
25 Million XRP Moved to Bitstamp by Ripple Whale following Sell-off Fears [tokenhell.com]
The cryptocurrency exchange Bitstamp is known for hitting European customers on a wider level. According to exchange volume data, Ripple is closing above $33 million in volume, and actual liquidity is even more than this value.

On March 7, @TplusZero noted that the trading volume of XRP on Bitstamp topped value. ''#XRP trading volumes move to the top spot on the world's longest-standing crypto exchange (@Bitstamp). Don't expect an explosion, but apparently utility driven volumes are starting to move,'' he added.
Tezos, Stellar Lumens, VeChain gear up for revival post-market meltdown [ambcrypto.com]
The cryptocurrency market has been sustaining heavy losses lately, which is why the collective market cap dropped down to $231 billion after an impressive start to the year. As Bitcoin's market dominance rose to 64.1%, many altcoins too started to record recovery gains after impressive rallies, shortly after the market meltdown.
Bullish For Crypto? WHO Encourages More Contactless Payments Amid The Spreading Coronavirus [cryptopotato.com]
The coronavirus outbreak has pushed some world central banks to quarantine physical cash bills. The World Health Organization (WHO) encourages the adoption of contactless payments. As such, it raises a legitimate question – could cryptocurrencies seize this opportunity to receive a larger market share for online payments?
Popular trading app Robinhood reportedly maxed out its credit line during market upheaval [theblockcrypto.com]
As Bloomberg reported Tuesday, the 17-hour outage last week was the result of a software issue tied to unusually high trading activity. But the firm is still investigating what caused Monday's outage. According to a statement to Bloomberg, Robinhood's platform is now "fully operational" and the team is working to "improve [its] service during these historic and volatile market conditions."
YOUTUBE CONTINUES CRYPTO CLAMPDOWN, IVAN ON TECH SWITCHES PLATFORMS [bitcoinist.com]
Youtube has consistently implemented stricter guidelines to limit the kinds of content available to the platform's viewers, while at the same time, they have constantly modified the search algorithm to recommend only approved content in its autoplay feature.

The amount of arbitrary censorship on Youtube has caused a mass exodus of content creators to other platforms like self-hosted websites, competitors like Bitchute, D-Live, and Vimeo, and the self-hosted Fediverse video platform Peertube.
The 35 Most Influential Bitcoiners Dominating Crypto Twitter by Follower Count [bitcoin.com]
Twitter has become home to cryptocurrency influencers who use it for evangelism, spreading news, shilling coins, and shaming certain projects. Of course, the more followers a crypto thought leader has on Twitter, the greater their reach and influence. The following is a look at the top crypto Twitter (CT) influencers in 2020 and the number of followers these people have obtained in order to remain a member of crypto's social media elite.
More news and community @Publish0x