The views and opinions expressed here are solely those of the author and do not necessarily reflect the views of CURATION. Every investment and trading move involves risk. You should conduct your own research when making a decision.
---
Bitcoin News Roundup for March 12, 2020 [Updated Mar 12, 2020 at 16:00 UTC] [coindesk.com]
---
Amid Market Downturn, Number of People Owning 1 BTC Hits New Record [cointelegraph.com]
According to major blockchain analytics firm, Glassnode, the number of Bitcoin addresses holding one or more bitcoins has been steadily growing and reached a new all-time high (ATH) On March 11. On that day, the amount of hodlers owning one Bitcoin or more reached an ATH of 795,630, crossing a previous ATH of 795,300 observed on March 10, Glassnode tweeted.
Bitcoin's Biggest Daily Price Drop In 7 Years Led To $484 Million Liquidations On BitMEX Exchange [cryptopotato.com]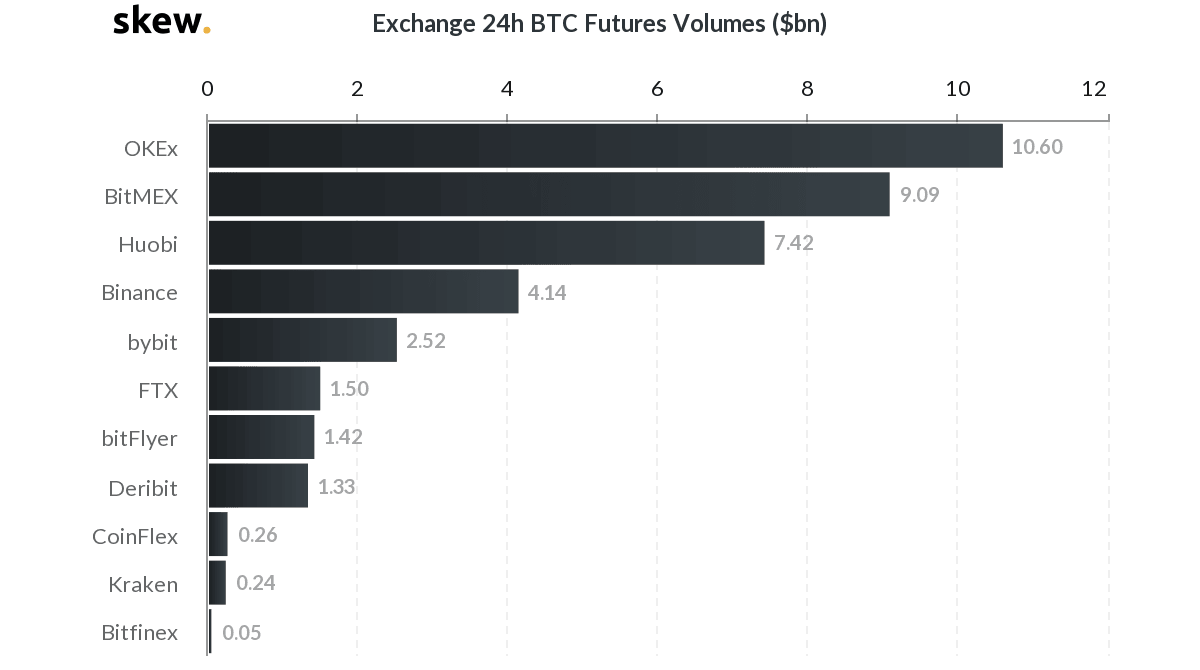 Huge double-digit price fluctuations like today, caused open long positions to get closed due to the fact that the stop-loss is reached. Besides, most traders protect themselves with stop-loss commands. During volatile days, it's wise to set up further stop losses and not to trade using high leverage.
Analyst: If I Look at Bitcoin's Chart "Without Bias," a Sub-$1,000 BTC Is Possible [newsbtc.com]
Bitcoin has undoubtedly been hit hard over the past few days; after peaking at $9,200 on Saturday, the cryptocurrency has fallen off a cliff, plunging as low as $5,500 just today. This marks a strong reversal from the 50% rally BTC saw from December to the middle of February, which many hoped was a precursor to the start of a bull market.
Bitcoin options volume surged during Thursday's price slide [theblockcrypto.com]
As reported by The Block, crypto trading desks and exchanges saw heightened volume on Thursday. Things were no different in the derivatives space.
FTX said that it suffered from a database overload.
Cryptocurrency Analysts React After Bitcoin, Ethereum and XRP Fall Off a Cliff [dailyhodl.com]
Strategist Josh Rager believes it's too risky to try to time the bottom in the current climate. He says he's not a buyer and BTC still has more room to fall.

"I haven't bought Bitcoin yet, because price is condensing and IMO building up for its next move.

Triangles are memes, but it's clear that it's going to move again soon. FYI, This move could be a continuation down I'd rather buy late at higher prices than be underwater."
In Echo of 2008, Fed Pledges $1.5 Trillion Injection to Aid Reeling Markets [coindesk.com]
U.S. central bankers pledged Thursday to inject some $1.5 trillion into the financial system in an effort to calm panicky markets after the spreading coronavirus triggered steep price declines on everything from stocks to bitcoin.
Gold and Bitcoin Markets Tested, While Central Banks Try to Quell Stock Market Rout [bitcoin.com]
Central banks worldwide have been bracing for the worst, as the global economy has shuddered over the last seven days. On March 11, the Bank of England slashed rates by 50 bps bringing the base rate down to 0.25%. Meanwhile, Wall Street bankers and U.S. President Donald Trump want the Federal Reserve to slash rates even more and a few speculators expect a 100 bps rate drop by next week. As central banks are being accused of depleting their monetary policy tools prematurely, on March 12, European Central Bank President Christine Lagarde decided not to cut rates. Gold and crypto prices have also been under intense pressure for four consecutive days.
Ethereum's 2020 gains wiped out as liquidations accompany coin's 25% devaluation [ambcrypto.com]
Bitcoin's massive fall on 12 March ignited a string of losses across all altcoin markets. The second-largest cryptocurrency, Ethereum [ETH] lost 25.65% of its value within three hours and was close to its January 2020 price. Due to the strong fall that engulfed the entire crypto-market, the gains reported by Ethereum in 2020 have been wiped out and the coin was staring at a 6% loss, since the beginning of the year.
3 REASONS FOR TODAY'S MONSTER CRYPTO MARKET CRASH [bitcoinist.com]
Bitcoin plummeted -29.71% overnight from yesterday's high of $7967 to a low of $5600 in an epic sell off. The leading crypto has stabilized for the moment at $6065, but we may see further downside price movement as investors panic and a global recession looms.
Crypto Markets No Longer 'Safe Haven' [coinspace.com]
Crypto market mirrored the turmoil impacting traditional stock market losing as much as $26 billion in market cap in less than 24 hours on Monday. Two factors have ripped the twin markets. The first was Corona Virus being declared a pandemic by the World Health Organization (WHO). Secondly, nose-diving oil prices has impacted crypto market caps as much as traditional stock markets. Led by the big technology companies Facebook, Apple, Microsoft, Google and Amazon, their collective market cap drop was $460 billion much larger than crypto market losses.
Trump's Travel Ban Imposed Because of Coronavirus Crashes Most European Airlines Stocks [coinspeaker.com]
Following a directive by Donald Trump to halt all air travel from a dozen countries in Europe for the next 30 days, airline stocks fell drastically by nearly 10%. The travel ban affects, first of all, the European market. Deutsche Lufthansa AG (ETR: LHA) was trading 10% lower, wiping out all the profit gains made this year. Air France-KLM SA (EPA: AF) tumbled 12%, shedding more than half of this year's gains. The hardest hit was Norwegian Air Shuttle ASA (OTCMKTS: NWARF) stock that dipped 16% rising the total losses incurred this year at 80%.
Celo Alliance's Efforts Supported by Libra Members [btcmanager.com]
An effort to provide credit and facilitate payments for humanitarian aid has found the backing of large institutions such as a16z, Bison Trails, and Anchorage. Bloomberg reports that this may be a contingency plan if Libra goes awry, but the two initiatives don't have much in common, March 12, 2020.
Ethereum Gas Prices Skyrocket Amid Devastating Market Correction [zycrypto.com]
As investors grapple with the spreading coronavirus that has now been confirmed as a global pandemic, bitcoin has cratered to the $6K zone, essentially entering a full-fledged bear market.

The world's second-largest blockchain, ethereum, has crashed in tandem to multi-year lows. As a result of this crash, gas prices, which are basically a measure of computational power, have shot up to new heights.
Pornhub users can now subscribe to premium with PumaPay [decrypt.co]
Pornhub has integrated PumaPay's PullPayment payment protocol.
Pornhub users can now pay for their premium subscriptions with PumaPay (PMA).
Other Pornhub subsidiaries to support PMA soon.
More news and community @Publish0x